There is no doubt that dogs love eating. Food is part of their day-to-day. One of their favorite activities to do. With that, it is right to give them the best dog food! However, it is not only the right amount of food, and the balance of nutrients served in every meal to successfully give your dog satisfaction. Do you know that the right-size of dog bowl is also part of the whole practical meal prep thing? Why? What is with food and having the right size of custom dog bowl? Does this affect the dogs' diet overall? Read on, and let's find out!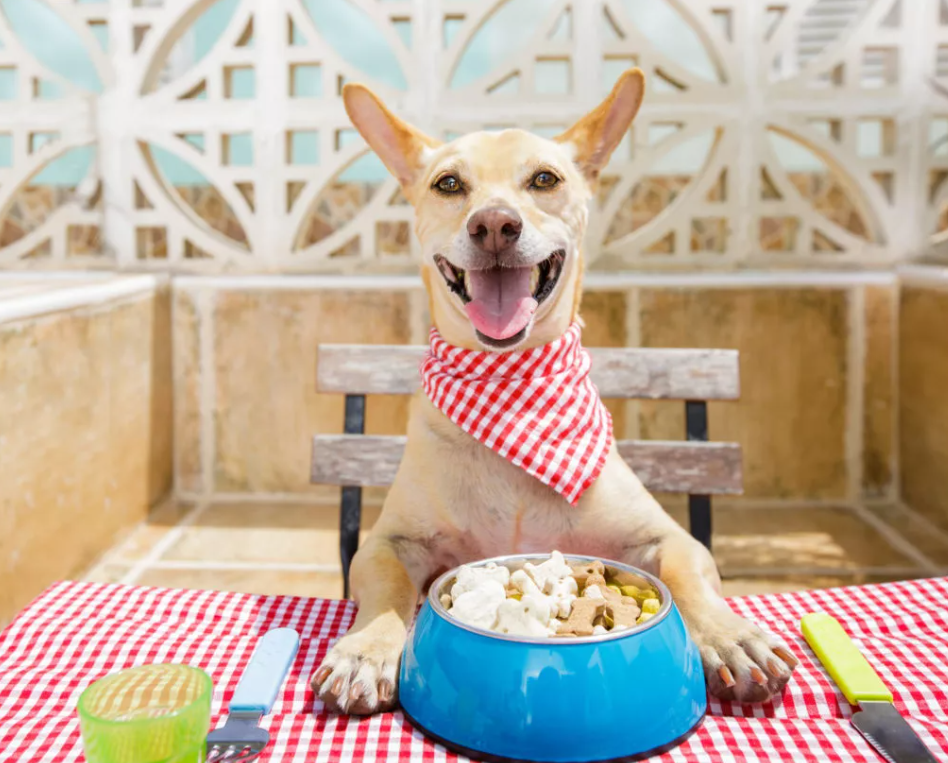 Does the size of the dog bowl matter?
Yes, very much. Just like humans, dogs come in different shapes and sizes, so it's safe to say they have different needs. You can feed large dogs using small dog bowl sizes, but you'll probably need to refill them a couple of times until your dog is satisfied. Remember, most dogs don't get tired when it comes to eating, so always be careful because you might feed them less or too much.
In smaller dogs, such as a Chihuahua or a Shit Tzu, feeding them using huge bowls might be heaven-sent. They love to eat and require more calories, after all. But feeding them too much might cause obesity. If dogs weigh 10-20% more than the ideal body weight, they are overweight, and if they are 20% more, they are obese. Fat dogs might be cute, but it's not for their health.
Whether your dogs are over or less fed it will show in their body and overall health. That is why the size of the dog bowls does matter to help you gauge their food easily and quickly. The dog bowl size will help you maintain the right amount of calorie intake its body requires in every meal. If practiced faithfully, using the appropriate dog bowl in every meal prep can help boost a dog's health and overall well-being.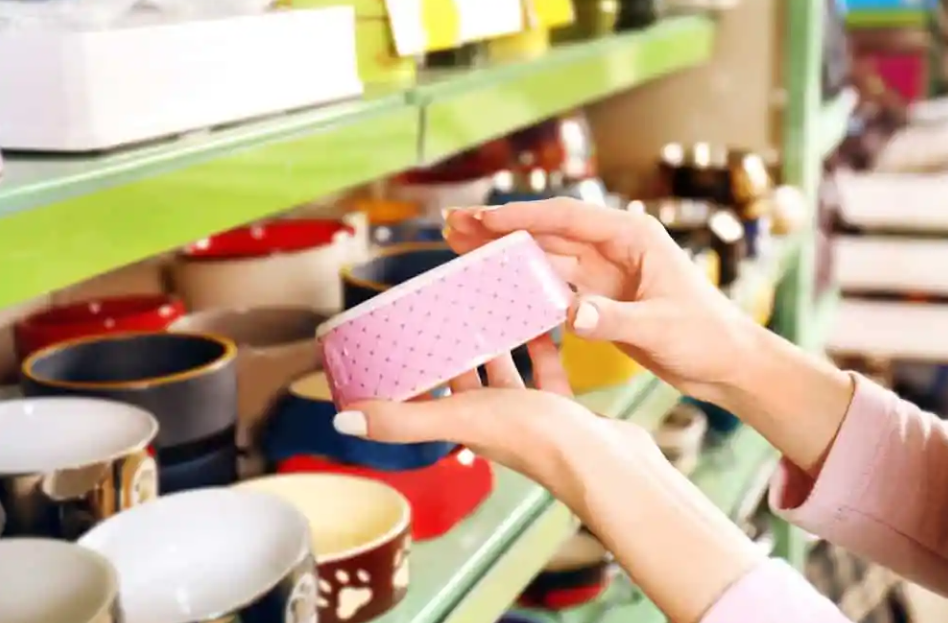 How do I know what size bowl to buy for my dog?
It depends on what size of dog we are working with. Dog bowl size by breed is a standard way to determine the correct size. Remember, the bigger the dog bowl, the better, but not too much. The ideal dog bowl should be four times the amount of food it will hold, so measure the perfect amount of dog food you'll feed first. It's just like humans; a child has a different plate size than adults because they are significantly smaller and have lesser needs than adults.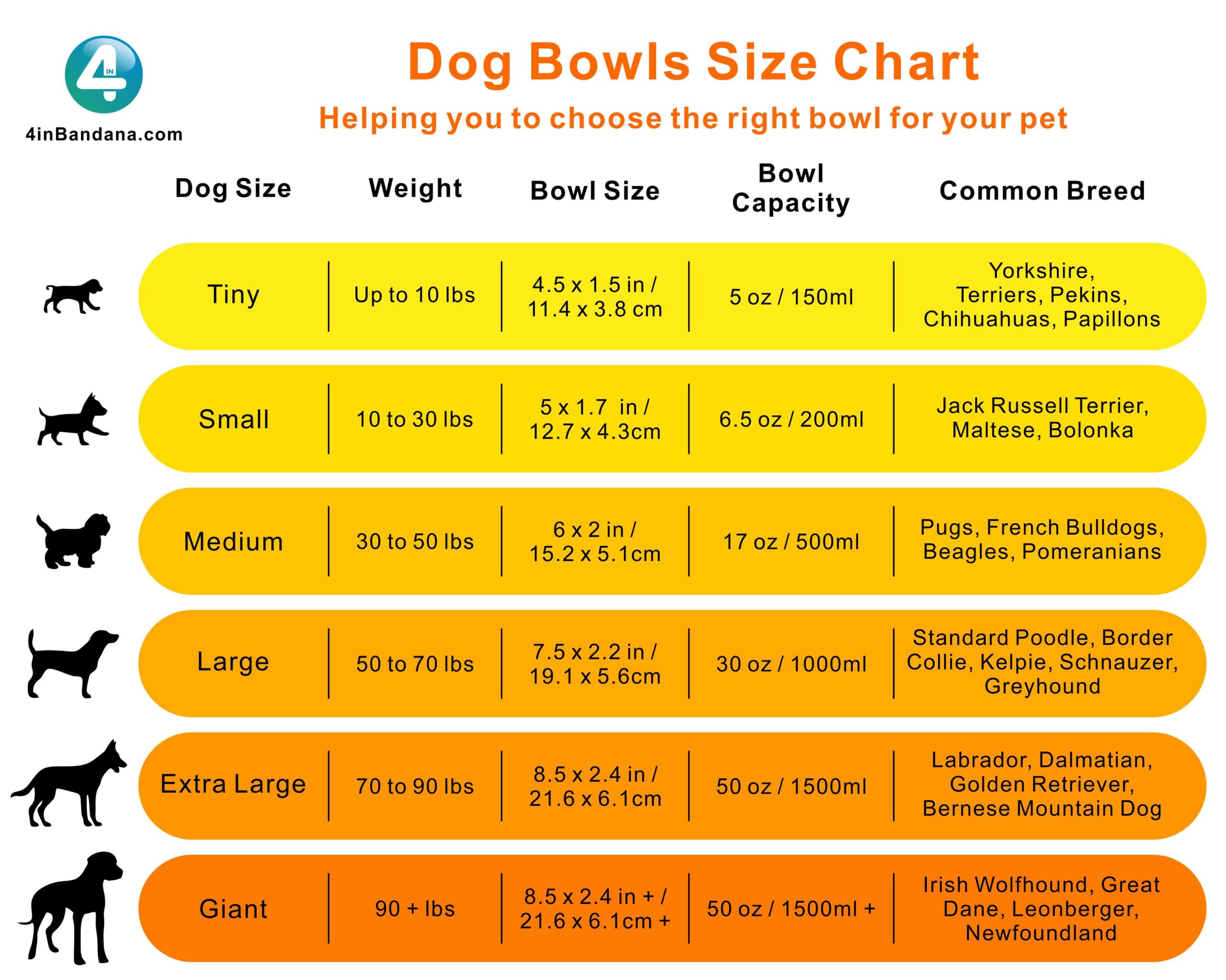 Tiny Dogs – the best dog bowls for small dogs like Yorkshire terriers, Pekins, Chihuahuas, Papillons, and many others, can require a small dog bowl of about 5 x 1.5 inches (5 ounces).
Small Dogs– though bigger than the previous breeds, canines such as the Jack Russell Terrier, Maltese, Tibet Spaniel, Bolonka, and many others are still not too big, they require food and water dog bowls of around 5 x 1.7  inches (6.5 ounces).
Medium-sized Dogs, including Pugs, French Bulldogs, Medium Poodles, Beagles, Pomeranians, and many others, may require a dog bowl that stands about 6 x 2 inches (17 ounces).
Large Dogs like a Standard Poodle, Border Collie, Kelpie, Schnauzer, Greyhound, and numerous others require a big dog water bowl with 5 x 2.2 inches (30 ounces).
Extra Large Dogs – To control their consumption, the 5 x 2.4 inches (50 ounces). dog dish is the best dog bowl for large dogs, like Labrador, Dalmatian, Golden Retriever, Bernese Mountain Dog, and many others.
The truth is that Giant Dogs like the Irish Wolfhound, Great Dane, Leonberger, Newfoundland, and many others require large dog bowls above 5 x 2.4 inches (more than 50 ounces).
Your measurements are still needed for these calculations. It's best to measure your dog's food first because it may be smaller or larger than the examples.
Different sizes are essential for dog bowls, but the materials also come in handy when keeping your dog's safe and healthy.

Silicone Collapsible Dog Bowls – if you are an always on-the-go pet owner who loves to tag along your best buddy, this silicone collapsible dog bowl is the right choice. Its versatile retractable and collapsible feature is an ideal travel must-have. It is indeed lightweight and multifunctional.
Stainless steel bowls – We might be most familiar with stainless steel because they are the most popular ones. They are easy to clean since they are non-porous and, therefore, efficient when getting rid of bacteria. Super easy to clean up for your pup! It's also effortless to carry since most are lightweight and don't readily crack!
Ceramic bowls are perfect when you want something elegant and classy. They also come in numerous shapes and patterns. Like stainless steel dog bowls, ceramic ones are sturdy. But they are porous and need to be cleaned every time. Be careful in choosing ceramic dog bowls as they are tied to some lead poisoning incidents on pet animals.
Plastic bowls are incredibly light and handy, perfect for adult and playful little puppies. Although they won't break easily when dropped, plastic dog bowls can be chewed or scratched easily resulting in areas where bacteria can linger. There are dogs who are allergic to plastic which leads to skin problems.
How much food should I put in my dog bowl?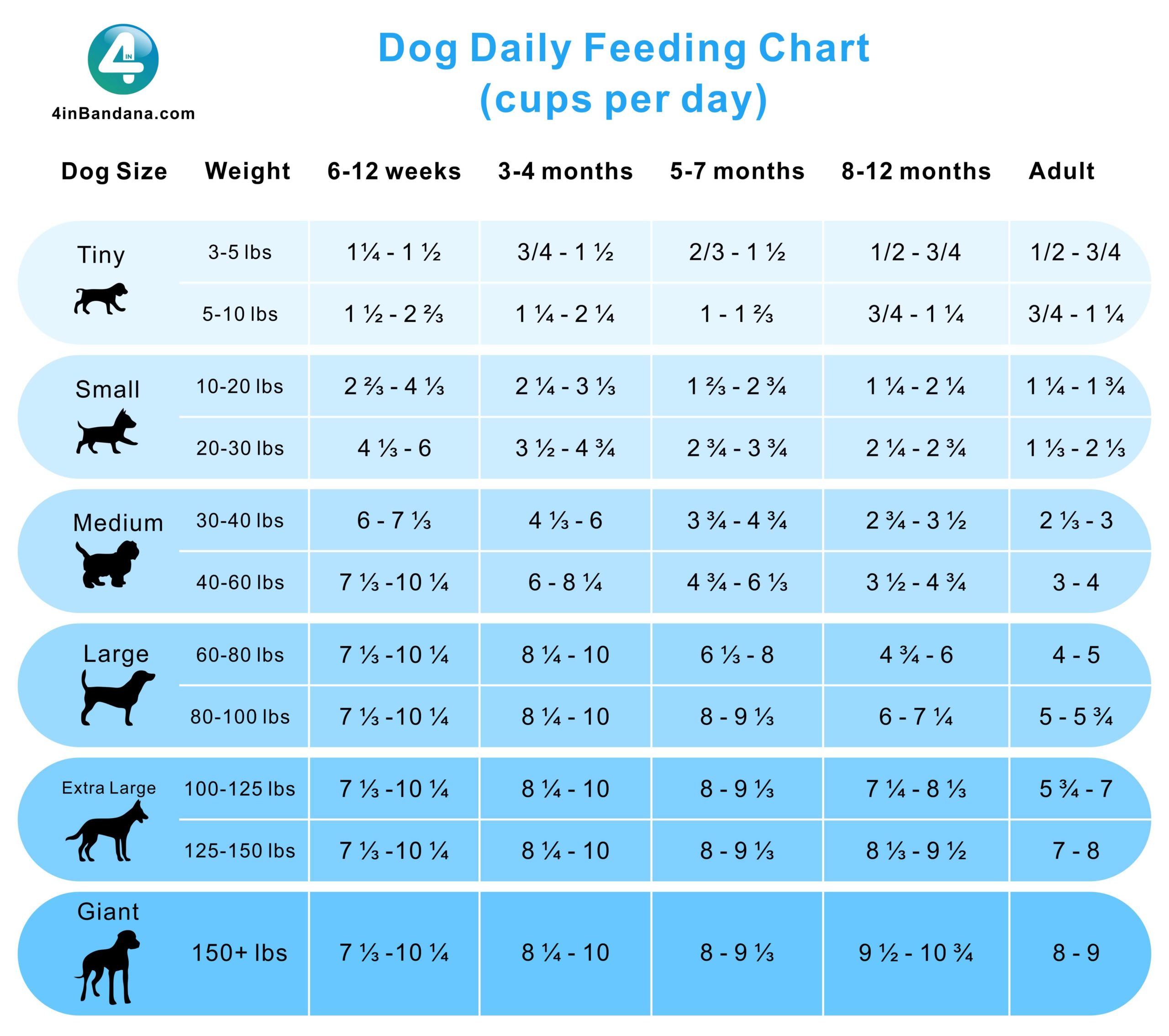 The amount of food you should put in the dog bowl depends on your dog and its needs. Age also is a big part of measuring the perfect amount of food you should set.
It is best to see a good feeding chart that most dog food brands have. Maybe they are slightly different, but they still carry the same essence. Remember your dog's age and size, and you're good to go. If you have a gut feeling that something is wrong, look into it. You can enhance the feeding schedule if you think it's most needed, and if your dog has a vet, consult them first.
As a good pet owner, you should also know what food you shouldn't give your dogs. The most well-known ones are chocolates and almonds, but did you know that cook bones are also prohibited? It might endanger your dog's internal organs when swallowed whole.