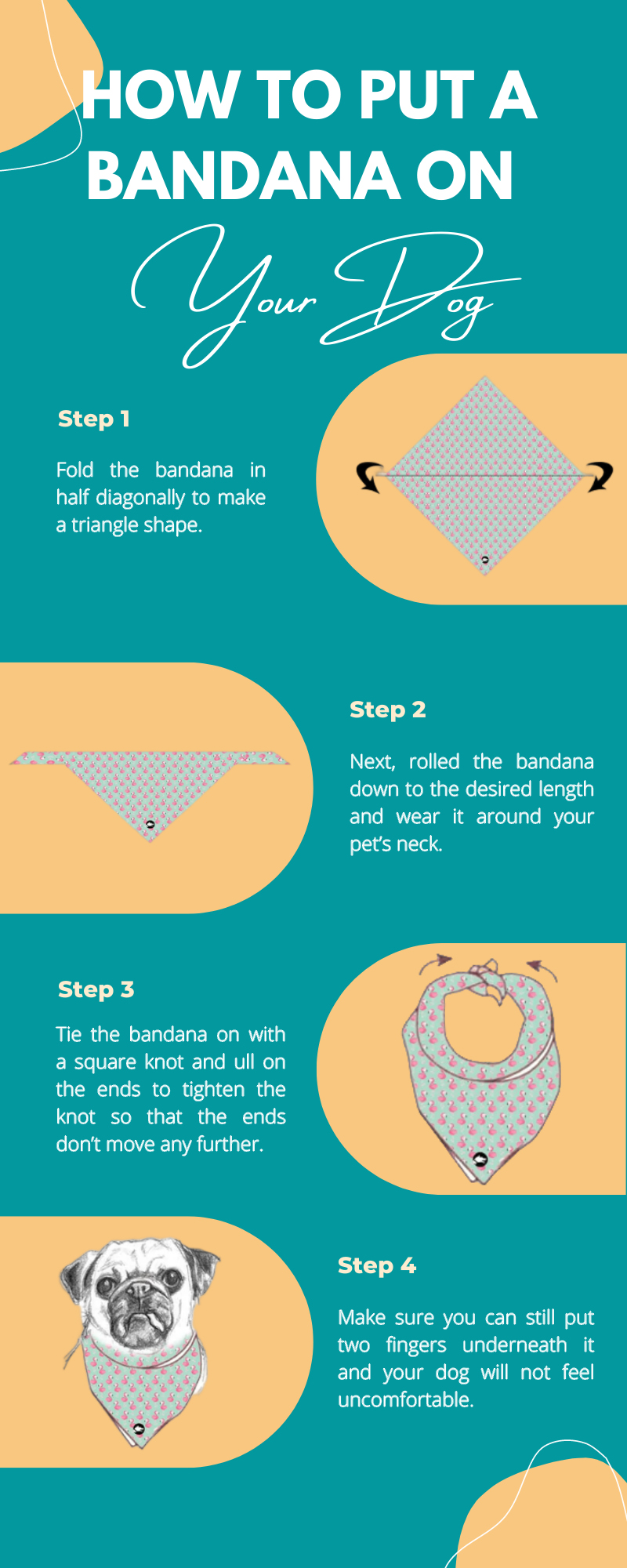 Dog Bandanas
We love our pet dogs so much that we try to keep them happy as much as we can.  So, people use bandanas on their dogs for decorating them. So, lets start to know about how to put a bandana on a Dog?
But this will give us an added benefit.  Our pet dogs will look less aggressive with a bandana.
Dog bandanas come in many different colors, sizes and designs. A lighter color bandana on your dog would be pleasing to the eye.
How Can I Tie a Dog Bandana on My Pet?
You will find dog bandanas fashionable and great for adorning your dog's neck. You can find bandanas in a wide variety of colors, designs, patterns and logos. And so, you will have ample choices to meet your dog's personality.
This is how to tie the bandana on your pet:
1. Fold the bandana in half diagonally to make a triangle shape.
2. Next, wear the bandana around your pet's neck and tie it in a square knot.
3. Pull on the ends to tighten the knot so that the ends don't move any further.
4. Make sure you can still put two fingers underneath it and your dog will not feel uncomfortable.
When it comes to size, the Bandanas are 22" x 22" when flat. And they are approximately 4" x 28" when rolled up.  So, these dog bandanas would be a great match for your dogs. Click here to learn more.
Dog Bandana will Make People Friendlier:
Dog bandanas on your dog will make people friendlier at your pet. This way, your dog will be at ease. After all, dog bandanas are a great fashion statement!
Dog Bandanas will make your dog cute.
When your dog looks cute, it would have an innocent look and be attractive to people. Some people are afraid of bigger dogs, like pit bulls. But if you adorn them with bandanas, these fierce looking dogs would appear less fearful. And people would not react badly.
Also, if your dog is in any kind of training. Without wearing a whole vest, you can use a dog bandana for the dog with the words "in training". This will make the dog comfortable as well as cute.
Another use: You can make people identify whether your dog is a boy or a girl. A pink or floral bandana on your dog will clearly show off her female identity. So, the next time you come across your friend, they will say to your dog, "good girl".
But they used to call her "good boy" before she started wearing a female identity bandana, right?
It is better to use a bright colored dog bandana whenever you walk your dog to the park. This will make it easy for you to keep an eye on her whenever she runs around.
If your dog has sensitive skin, you should get her cotton dog bandana. Cotton bandanas are less harsh on the skin.
Some dog hair cutting salons use dog bandanas as a treat for the dogs that are taken for a haircut. They'll love it, you know!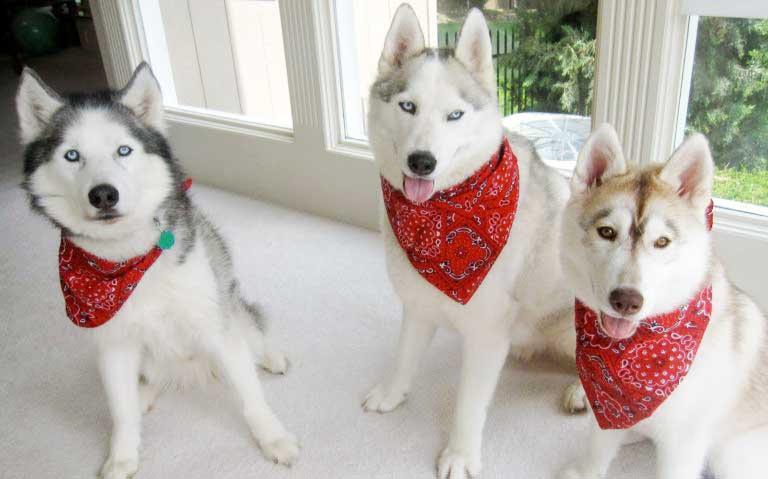 Are there specific colors of Dog Bandanas?
Yes. There is a color-coding system used by dog owners. They use these colors to identify a specific behavioral or health issues of the pet dogs. These specific colors may indicate that the dog is aggressive, blind or simply it is in training.
Yellow is one of the most used colors for dog bandanas. Yellow indicates that the dog needs some extra space when walking or around strangers. The dog may not be actually aggressive. But, some dogs in training or after recent surgeries may become uncomfortable around strangers.
The red color will indicate that the dog is aggressive when approached by another animal or a person.
Pink, blue or green may indicate the dogs are friendly and not aggressive. But it is always safe to ask the owner's first before you pat the dogs.