Bandanas
are also called multi-purpose tube face masks. Well. When I say face mask, you will surely think of the
Corona pandemic
.
Yes. You are right. You can use bandanas as a social distancing tool, too.  But bandanas originally have a different value for women as well as men.
Vividly colorful bandanas are an interesting way of expressing yourself. It's an innocent and effective way of showing off your personality in the society. Not only that; it makes you more beautiful and more handsome.
In the ancient west, the Cowboys always preferred Bandanas. These helped protect them from the scorching sun, heavy winds, dust, insects and much more. Not only that, but they also used these for cleaning too.
Solid bandanas would give you number uses and preferences. Custom bandanas should be adaptable to a particular situation. You may need something to hold your hair back. Or you may need to avoid dust and keep sweat away. For all these custom bandanas are there.
In these modern times, bandanas have invaded into fashion. And many designers have begun to incorporate classic and batik designs into their garments.
The best bandanas will always give you protection from the sun's UV rays. And the modern-day bandanas are easy to use. Moisture-wicking and easily breathable material would keep you comfortable the whole day.
1. Multi-Purpose Tube Face Mask:
These tubular bandanas are multi-functional. You can wear these bandanas as a face mask, headband, balaclava, hairband, bandelet, headwrap, neckband, wrist band, waistband etc. You can use it for any style you like.
These custom bandanas are ideal for adventure and daily life. But make sure that the item you buy is made following the CDC guidelines.
2. Uses of the Custom Bandanas:
Ultra-lightweight. It can be put in a pocket or bag easily.
More than 90% protection from UV rays.
Helps you filter droplets and other airborne impurities.
Fully versatile & multi-functional designs.
Can be worn in many different ways to your liking.
Good for any activity.
Safety from dust, wind, insects, and other airborne elements.
Super soft microfiber wicks moisture and dries fast (depends on the type of manufacturer).
When selecting custom bandanas, you'll have to decide hard material or soft material. For example, if you intend to wear as a face mask or head cover, you can go for the soft ones. For thighs, waist etc., the hard material is preferred. Also, you should make sure that your selection meets CDC health guidelines.
You don't actually need to know the difference between hard material or soft material. You just have to make a choice to suit your requirement and the environment you are going to use it. It is always best to go through the manufacturer's information.  Only then you should decide and make the purchase.
3. Some of the Most Famous Custom Bandanas:
➤ Army Universe Bandanas.
These types of bandanas are made for tough work. For those who work hard and play hard. This 27" x 27" type is ideal for work, camping, hunting, biking, hiking and many more.
All four corners of these custom bandanas are sewn and reinforced. So, the material won't fray or unravel or rip. Most often the material will be cotton. And you can find them in different designs and colors.
I love these bandanas with heavy-duty construction plus the jumbo size available in vivid colors.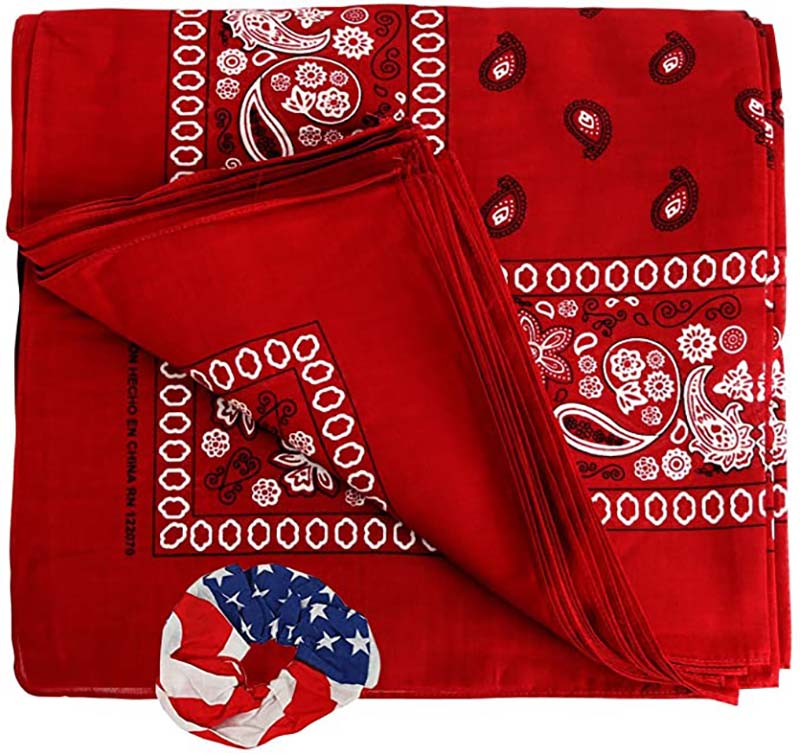 ➤ Toes Home Headband Bandanas.
These are the coolest looking bandanas. Do you sweat more often? Then, this type of bandana suits you. These bandanas are colorful and made of polyester stretchable material.
This may be the ideal choice for motor cycle riders, fishing people, hikers, campers and those exercising outside. The cloth usually measures at 19.5"x9.7". So, you can use it as a neck gaiter, mask, or balaclava. You can pick up the color that matches any outfit.
➤ Levi's Cotton Bandana.
Levi's Cotton Bandanas have been long existing unchanged with many workers everywhere since the 1800's.
Cotton material is soft. So, you don't have to wash again and again to soften it. And you can select the size you want. There are many custom sized bandanas.
This classic bandana can be used as a handkerchief, headband, headwrap, wristband, tied around your neck, or hair tie. You can also use it or even wrapped around your dog.
➤ Faybox Wicking Headbands.
This is ideal for active people. These are microfiber bandanas. Your sweat is quickly absorbed from the skin. And you can stay dry and comfortable. The material used is stretchy. And it won't feel tight on your head.
These bandanas are popular because they can be styled for different types of uses and occasions. Faybox wicking headband is also called as light weight stretchable headbands.
Quick-dry micro-fiber material is used to make these headbands. You can breathe easily and feel comfortable using this type of bandana. Approximate size will be 18.8" x 9.4". What's more!  You can style and wear this in many numbers of ways.
Wrap it around like a traditional headband. Or pull it over as a scarf, neckerchief, or balaclava. Printed designs on these headbands will give you inspiration for music festivals and other outdoor activities.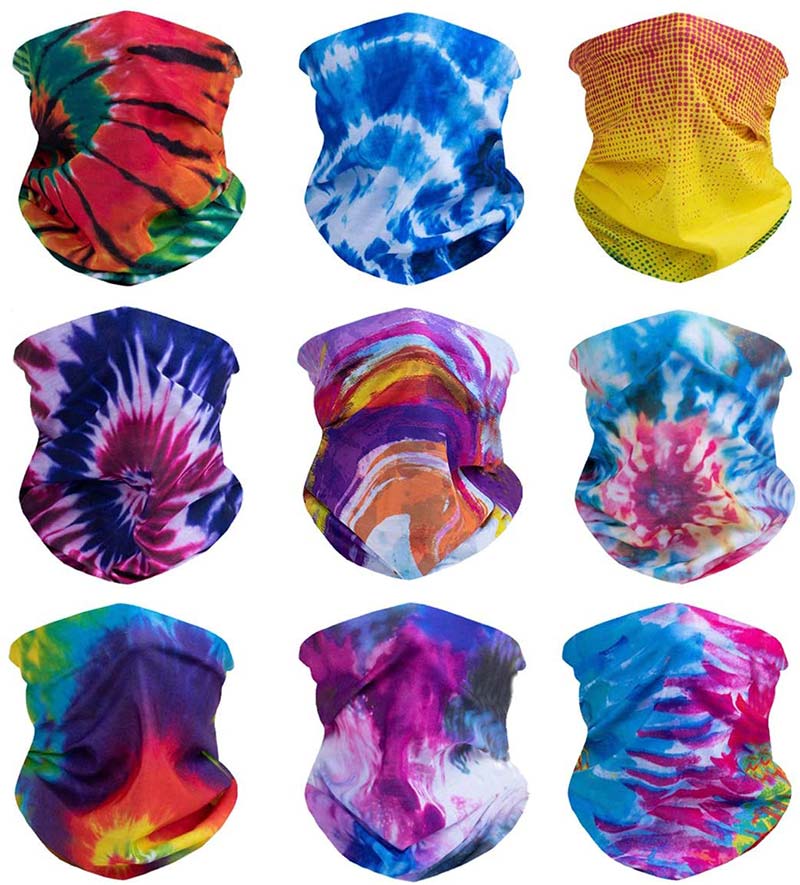 ➤ Joeyoung Bandanas.
This is another micro fiber bandana. You can stretch this out to more than 20.5" x 24.5" wide. So, you can use these not just as a headband, but also as a shawl, wrap, or scarf.
Wrap around your face to keep out dust or snow. The soft, breathable material will absorb moisture and sweat and keep your skin intact. And you will feel dry and comfortable.
➤ L&M Bandana.
Nothing is more pompous than a colorfully printed classic bandana, worn by everyone from stars to musicians and models.
An L&M bandana set has 12 cotton bandanas in different colors. These traditional bandanas are a perfect square that measures 22" x 22".
You can fold these and make a head covering or a necktie. Also, you can use them as a handkerchief. When on a picnic or barbecue, you can use these as a table setting too.
These bandanas are printed on both sides. L&M bandanas are sewn all around. So, they appear with a clean finished look.
The material will be hard at first. But, after a couple of washing, it will be softer.
The more you wash it, the more it gets softer. Be mindful of colors when washing.
4. How are Custom Bandanas Made?
There are many options available when creating custom bandana prints. The following are some tips for you to determine which one will work best for your bandanas.
➤ 100% Cotton 22 Inch Custom Printed Bandanas.
This is the most popular way to create bandanas. This method has been used for over 100 years. Screen printed bandanas are great. You can get them in many vivid colors.
There are two types of inks for printing custom bandanas; water-based inks and plastisol inks.  You can use both ink options to produce a great custom bandana in different ways.
If you prefer an eco-friendly printed bandana, water-based inks are the best. This method is referred to as "discharge bandana printing." Using these low-toxic inks, a great soft touch bandana can be printed.
By using plastisol inks, you can produce a high-quality bandana print, with a lively pop of color.
Screen printed bandanas are the right one if you prefer a traditional timeless bandana.
➤ 100% Dye Sublimated Bandana.
This is a very good alternative to screen printed bandanas. With dye sublimation, you can achieve a full-color print. Also, you can achieve a limitless range of colors.
Ink jet printers are the most used print method for sublimated printed bandanas. Custom designed scarf bandanas and custom handkerchiefs are the result of the dye -sublimation print method.
For this print style, 100% polyester bandanas are used. Sublimation will work only on polyester. What is interesting is that you can't feel the ink because the bandana is so soft.
As a whole, custom dye sublimated bandanas are a great selection.
➤ Premium Cotton Digital Bandana.
This is truly a revolutionary way of printing bandanas. As the name itself suggests, the bandanas are printed digitally. Cotton bandanas are used for printing.  And there are limitless number of colors that can be used to print digitally.
With screen printed bandanas, you have a limit. But, when it comes to full range of colors, you have endless options to use with digital custom print. Here, only 100% cotton bandanas are used.
The digital printed is done directly on one side. Just like an inject printer on a piece of white paper.
Younger generation would surely go for the digital bandanas. And they will find it fun to use them.
5. What are the Business Benefits of Custom Bandanas?
Now custom bandanas have become an advertising tool for many businesses. This has become an affordable way of marketing a product or a service.
Many businesses tend to invest in custom logo bandanas. They use these as an interesting gift to their customers. And the customers would really enjoy having a bandana.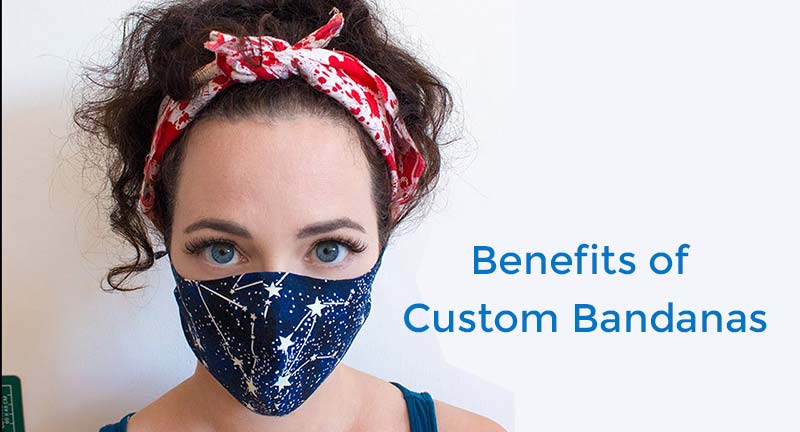 This becomes an effective way of advertising for the marketing world now. Because the return on their investment on this tool will be great enough to impress the businessman.
Customers will be impressed when they receive free bandanas as a free gift. So, the name and the logo of the particular business will remain on the customers' mind.
On the other hand, the customers will benefit from these free bandanas. Because the bandanas give value to them. Right?
6. What are the Health Benefits of Bandanas?
Many of us are prone to neck issues and stiffness, especially during cold climate. Also, people glued to their seats in front of a computer will face this problem.
The warmth of a neck scarf bandana can be of relief in this situation. Because the warmth encourages blood circulation and relaxation. If your neck is very stiff, you can even keep a heated pad underneath your scarf.
By wearing a neck bandana, you can maintain a healthy throat. This is especially for singers and speakers. In Ayurveda, it is recommended that you wear a neck scarf to improve the immune system.
Whatever the basis behind these, suddenly changing from hot to cold or vice versa is not good for your health. We know this by experience. So, in this situation, custom bandanas would help us immensely. We can remember very well how hard our grand mothers forced us to wear a head scarf during cold times.
COVID-19.
Because of rising number of COVID-19 cases in the United States, and a shortage of protective gear, the Centre of Disease Control and Prevention (CDC) has suggested using bandana or scarves for the health workers while treating patients. But some doctors are of the view that all the bandanas are not suitable as a protective gear.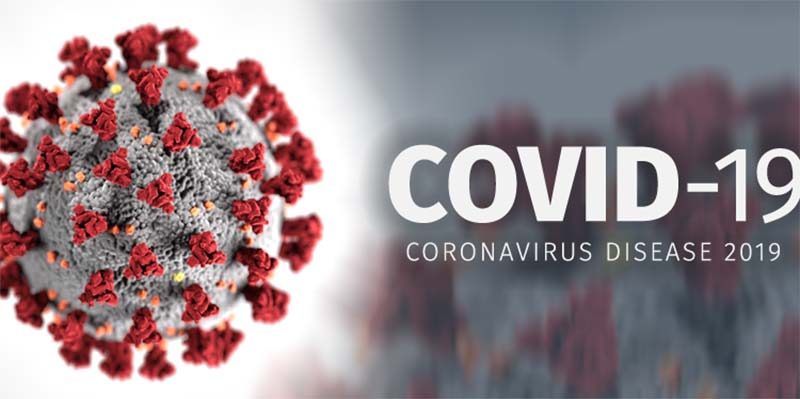 Conclusion:
Bandanas are believed to have originated from Indian Subcontinent. It was often worn around the head and the neck. Some Indians considered it as a hat.
These multi-colored bandanas have become so popular now due to many reasons. It has become not only popular but useful for many.
The business men use these custom bandanas to promote their business and to retain a client base. They expect to spread their trade name or business name among their customers by printing their business name and logo on the bandanas. They do this in a colorful way. This in turn impresses the existing customer. And they attract potential customers, too.
The average person uses these bandanas as a way of protecting themselves from dust and airborne elements that are harmful to health.
Whatever ideas, medical reasons, or suggestions there may be, the custom bandanas are sure to stay and go on for a longer time. Perhaps, until the end of the world!
My belief is that the present generation, as well as the future ones will surely go for these custom bandanas. And I am sure you too will try to use them as these custom bandanas add value to you. Don't you?