The older group of people often remind us to wear a scarf or a neck warmer and cover-up, especially the neck, when it is cold or windy. Leaving most young people wondering what is with the coverings and the cold. This custom may vary from one culture to another but, that is what most of them say. Why?
In Chinese medicine, the wind is identified as one of the six pathogens together with cold, dampness, dryness, heat, and summer heat. And being exposed to these pathogens, the wind specifically may cause us to catch colds. The torso or the core releases blood to the extremities when it is warm. It stops sending blood to the extremities when it gets cold and only focuses on the vital organs as well as the brain. It means that there are only fewer viruses and bacteria-fighting white blood cells that would protect against infections. And so likely, not protecting the extended part of the body's torso, which is the neck to wind and cold makes it susceptible to this pathogen. When the wind enters the pores, and into the acupuncture channels of the neck, an invasion takes place, which is equivalent to catching colds.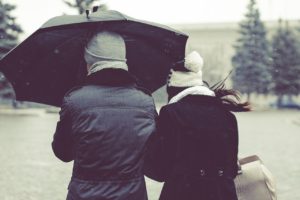 And in this time, one can never afford to get colds. Gladly there are several ways to protect ourselves from this. One is by taking the right amount of vitamins such as vitamin C. Another is to make sure to eat a healthy diet together with regular exercise to ensure a strong metabolism. And one should be geared with the right type of clothing for the cold weather for optimum protection. Let us be reminded that protecting ourselves will allow us to enjoy the outdoors, especially during seasons like winter.
How to Protect your Neck?
Wear insulation or covering. That simply can give a satisfactory cure to the problem. There are many neck coverings available one can choose from. They vary from material to weight, to the design, and its form. A scarf and a neck warmer are two of the most popular and useful items when it comes to covering the neck. There are other people as well that chooses to wear a polo neck or a turtleneck sweater.
The scarf can be worn stylishly and in anyways. It is lightweight, and most especially it covers that neck thoroughly and effectively. It is even considered a bonafide winter outfit staple. A typical neck warmer scarf is a long rectangular strip fabric that can be thick, laced, thin, crochet or knitted. Either way, it is used to be wrapped around or hanged on the neck to protect it from extreme cold.
While neck warmers are closed tube cloth that is worn around the neck for warmth. It is best made from polar fleece, dralon, wool, and synthetic wicking. While scarves are mostly stylish, neck warmers are generally used as activewear for outdoor junkies. Well, it is also stylish in a way but, more of, it has to match the outdoorsy feels, it should be convenient and won't fell off. Snow gaiters or neck warmers are made to be lightweight, easy to wear, it keeps the hands free, and mostly it protects the neck from the unpredictable outdoor cold.
The Best Neck Warmer for Cold Weather
From the varied suppliers of neck warmers in the market, one stood out when it comes to quality, warmth retention, and affordability. 4inbandana is a manufacturer of neck gaiters, bandanas, and other quality products. They are known to produce high-value goods at ideally affordable prices. They do not only provide one type of each of their product. But they also give options that can cater to a wider range of consumers around the world. Additionally, they can present custom-made products for brands or even individuals who wanted to have personalized and unique pieces.
Here are some of their well-known snow gaiters, ideally for skiing and snowboarding activities or simply for outdoor cold protection essentials:
This neck gaiter has a multi-purpose usage as it can be worn for running, fishing, hiking, cycling, skydiving, and any other outdoor activity. It protects the user from cold and strong winds while enjoying their sports or outdoor activity. It gives off a warm and cozy feeling whenever outside, especially when it is winter. Crafted in an ultra-soft fabric, it is windproof and can be worn at any course especially as a winter gaiter.
Need not worry about the fitting since it is made from a stretchy material. A double layer means double protection and double the advantages. Plus, 4inbandana made it possible to be customized.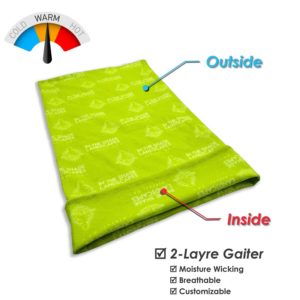 Another design for cold outdoor sports activity from 4inbandana is this warm neck ski gaiter mask. Made from dralon fabric that is a premium artificial wool type fabric. This type of cloth is proven to have longer warmth retention perfect for snow-related activities. This product is oftentimes called diamond velvet as it has a diamond-like luster on its surface. It is in bright and vivid colors that made it stand out amongst other styles of ski neck warmers.
Accordingly, it is made to protect people who are fond of the winter cold activities. Though it is made from a kind of wool fabric, it is still lightweight and comfortable to wear. Its stretchy fabric gives off more comfort to its users as it perfectly fits their neck. This warm neck gaiter is hemmed in both ends making it more durable than the other products available in the market.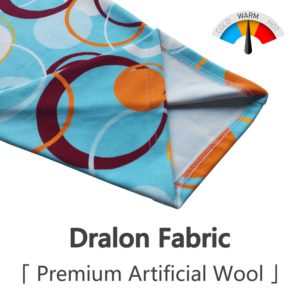 Made from polar fleece and milk silk fabric, this fleece neck gaiter is indeed one of the best fleece gaiters for winter. It is considered the ultimate warm-keeping item during the winter season. It brings that breathable and warm feeling in different activities. What's implacably notable when you'd say a product is made from a polar fleece is that it blocks the cold wind and wicks away moisture not to touch your skin. Therefore, throughout an active winter fun, a polar fleece neck warmer can keep you competitively and comfortably dry.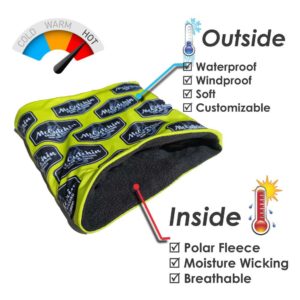 4inbandana made it possible as well to maintain this products' high warmth-weight ratio. This means that it is less bulk, still lightweight, durable, and convenient.
From all these different features of the different products, one must know what he truly needs. Assess the activity and preferences and its requirement for keeping oneself safe from extreme cold. 4inbandana's web store provides its clients the ample information they need to pick the best neck warmer that suits their needs. They made their ordering process easy and fast. They directly provide the sizing options, customization, pricing, and delivery details. They also include the features of each of the products. They have also allotted a page where frequently asked questions regarding their shop and ordering process are stated and explained to further enhance customer experience.
Excited to dive into the outdoor winter fun these upcoming months? Well, the possibilities are already laid! Need not to worry from catching colds and to be refrained from going outside. Check on 4inbandana's web store for more information and inquiry. Their sales team will be grateful to assist clients who need the utmost and the best neck warmer available. Keep your neck warm and enjoy the outdoors with these high-quality neck warmers from 4inbandana.