Bandana is a large, printed scarf for the head, neck, and others. Bandana's history traces back significantly to the mid of 17th century in most of South Asia and the Middle East. Bandana came from the Hindu word "Bandhu", which means "to tie'. And fast forward to the present time, bandanas are worn by many other people of different cultures and ethnicity. 
When it comes to accessorizing, one can never go wrong with wearing a custom bandana. It is categorized as a classic and timeless choice for all ages. It is a simple form of a fashion statement, yet versatile and can be styled in one way or another. Many love how it brings an edge to how a simple outfit can look. That is if you know how to wear it.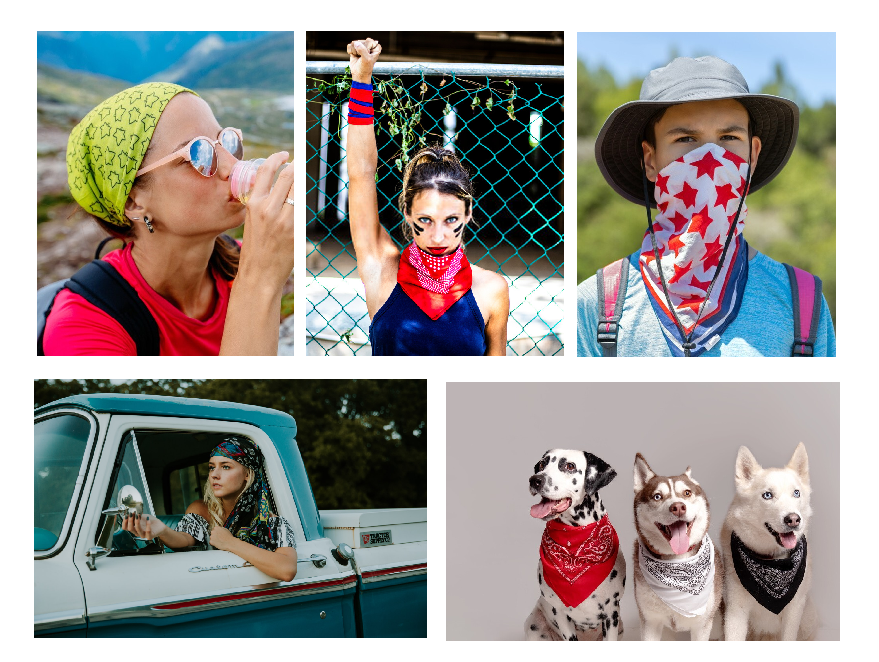 Whether you are going to a festival, a weekend getaway with friends, or for a smart-casual affair, a printed bandana can do you wonders. It can be noted that today, there have been many other ways how to don a design bandana and get that edgy look you want. Some wear it not only on the head or neck but on their wrist, waist, and as a pocket square. 
6 Different Ways to Wear a Bandana
From one to the many ways to tie a bandana, here are the top 6 commonly used ways to sport and make a statement through a fashion bandana.
How to tie a bandana around your neck?
Lay the bandana on a flat surface.
Start folding one end to the other end.
Do this until you can make a long thin strand.
Wrap it around your neck, keeping both ends in your front.
Then, tie it to make a double knot. You can make it right or not.

Fold the bandana in half, making a triangle.
Fold starting at the long end of the triangle until you reach its ends, creating a long strip.
Make a messy topknot with your hair and tie the bandana strip around it.
Let the ends hang loose for a retro or vintage finish.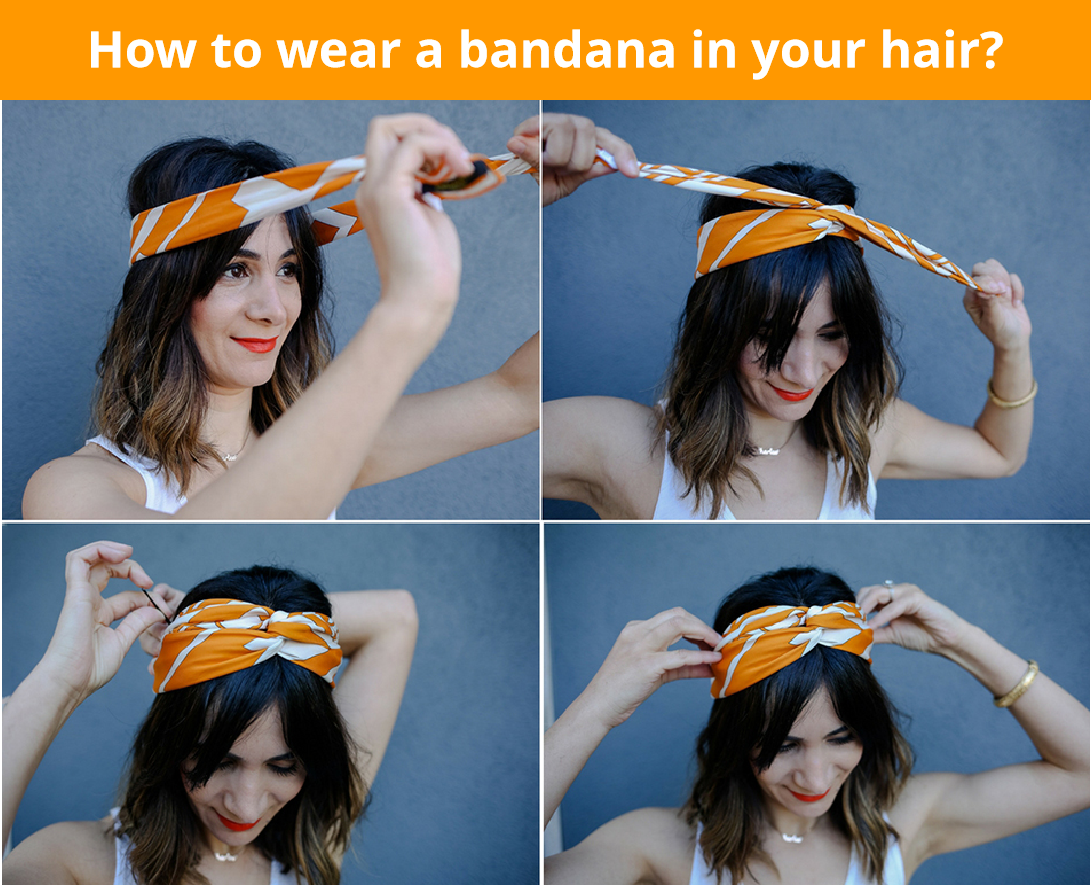 How to tie a bandana on your head?
Fold the bandana in half to make a triangle.
Fold in one inch starting from the long end until you reach the tip.
Position the middle part of the bandana in the middle of your forehead.
Wrap it around your head and tie it at the back.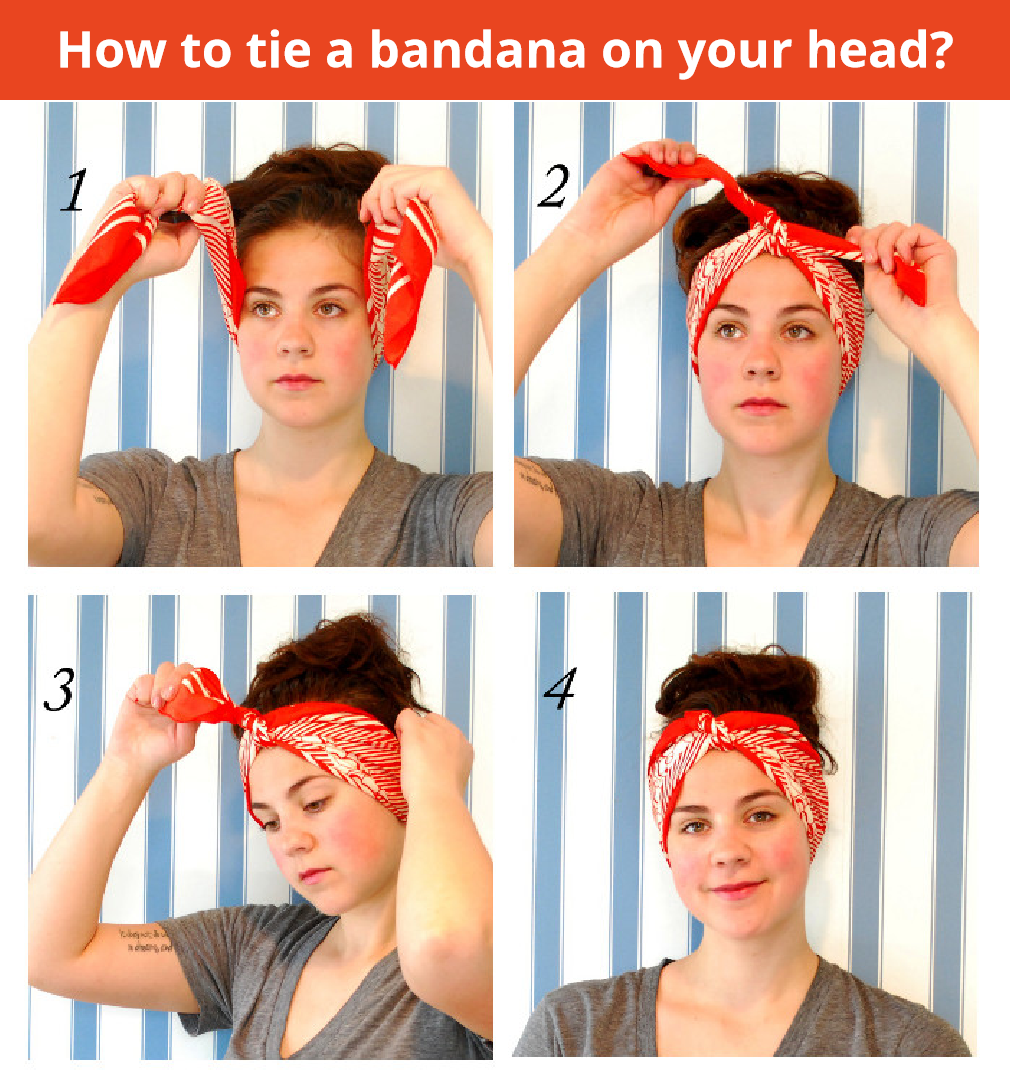 How to tie a bandana on your wrist?
Fold the bandana in half, making a triangle.
Fold in at least 4 inches starting from the long end until you reach the end. 
Wrap it around your wrist a couple of times. 
Tie both ends, securing its hold. 

How to tie a bandana as a shirt?
Fold the bandana into half, making a triangle.
Position the bandana in an inverted triangle position in your chest.
Grab both the ends and wrap them around your chest towards your back. 
Tie it securely at your back.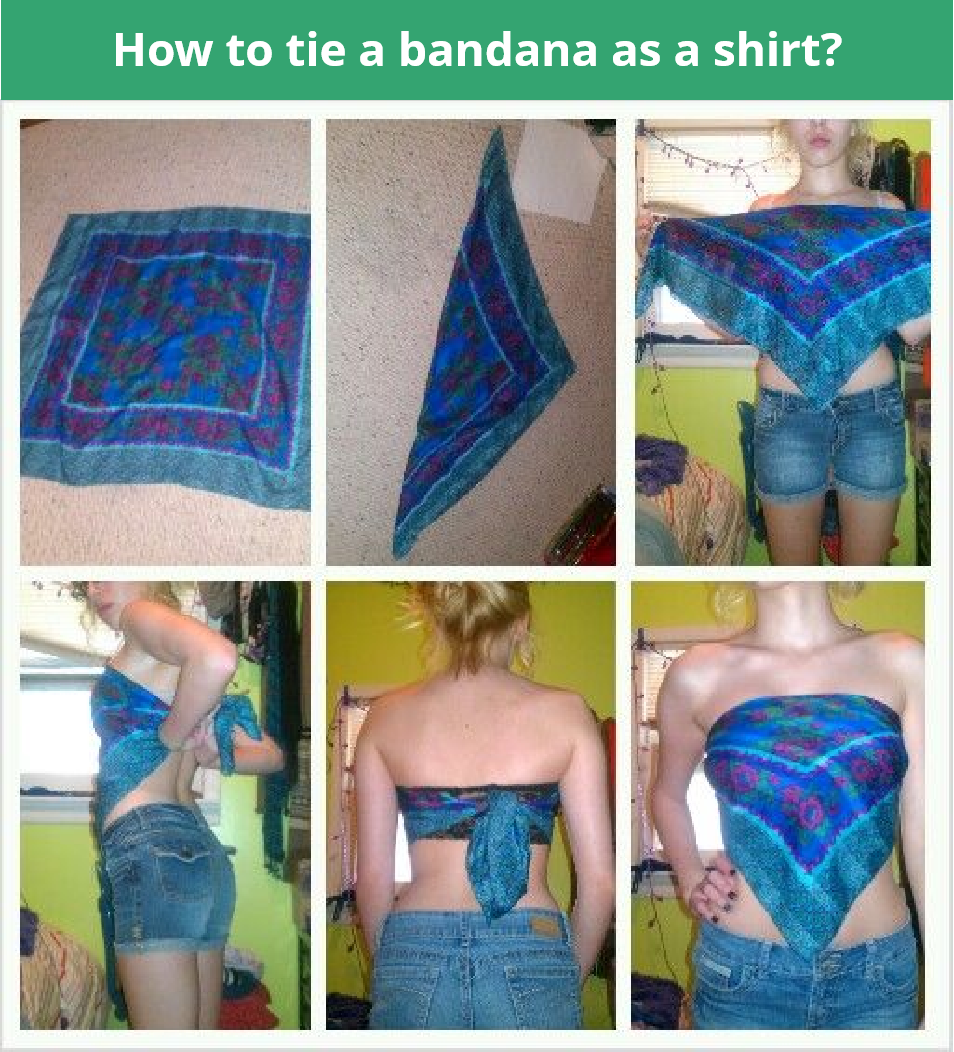 How to tie a bandana on your bag?
Make a triangle out of your bandana.
Curl up the tip of the triangle to the middle of the base or long side.
Position it on one strap of the bag and tie it in a knot. 
Make sure you aim to fasten it with the center of the bandana as a reference. 
Grab each side and make a ribbon. 
Let both ends hang loose and you have a bandana bag.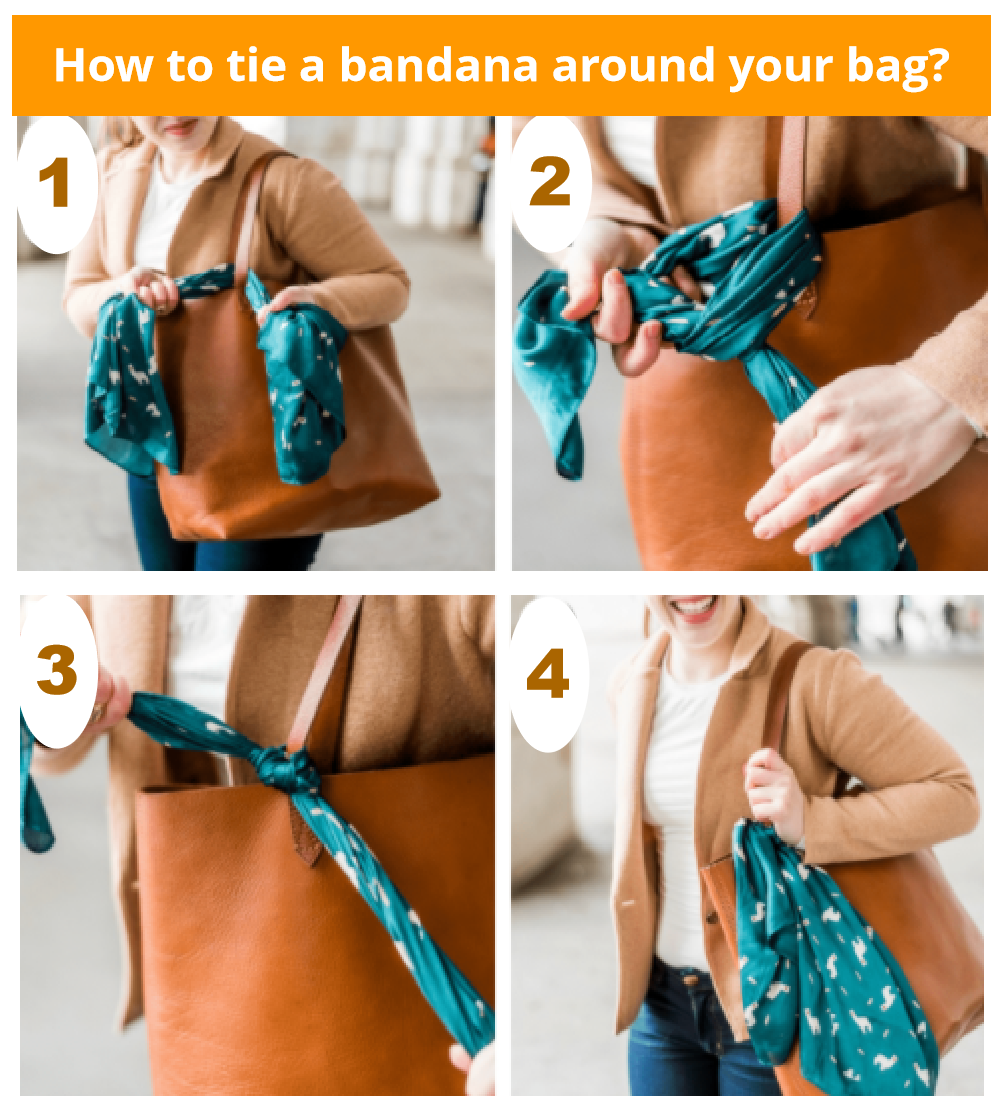 When should you wear a bandana?
Bandanas may look simple, but since then it has been imposing an impact in society representing many different cultures. It may be for contrasting reasons and purposes, but undeniably, bandanas have been around denoting significant representation.
Such large groups of guys with bandanas are the cowboys. They use it to complete their cowboy look and to protect their neck from dust. Some musicians wear them to give that badass flair. And now that a pandemic surfaced, bandanas took on one of their surprising purposes. This purpose is to cover one's face and protect from the virus as a face mask bandana. Though a face bandana was not proven effective and not recommended as the lone way to defend oneself, bandana has continuously proven its hype, nonetheless.
From well-known brands, even the biggest names in the fashion and entertainment industry, bandanas are everywhere. From that ancient paisley bandana printed cotton classic to geometric designs and up to those silky-textured bandanas that add an accent of sophistication into your ordinary suit. Bandanas truly set a trend.
However, there are specific occasions or events that you can best wear bandanas. Read on and check on these ideas that you might get to use one of these days.
For this type of outfit, you can choose a silky or satin-textured bandana. Something not so bulky and has a slight shine that will make it pop out. You can wear it on your waist or as a pocket square. They are easy to iron and fold, not giving you a hard time styling however you want it. More so, pick a printed bandana that has subtle designs such as some stripes or dots. 
For casual date nights, a bandana scarf can add more glamour to the personality you portray. It will emphasize the little details of your overall identity and might win you a second date. Women love to notice details the littlest ones, so pick the appropriate bandana!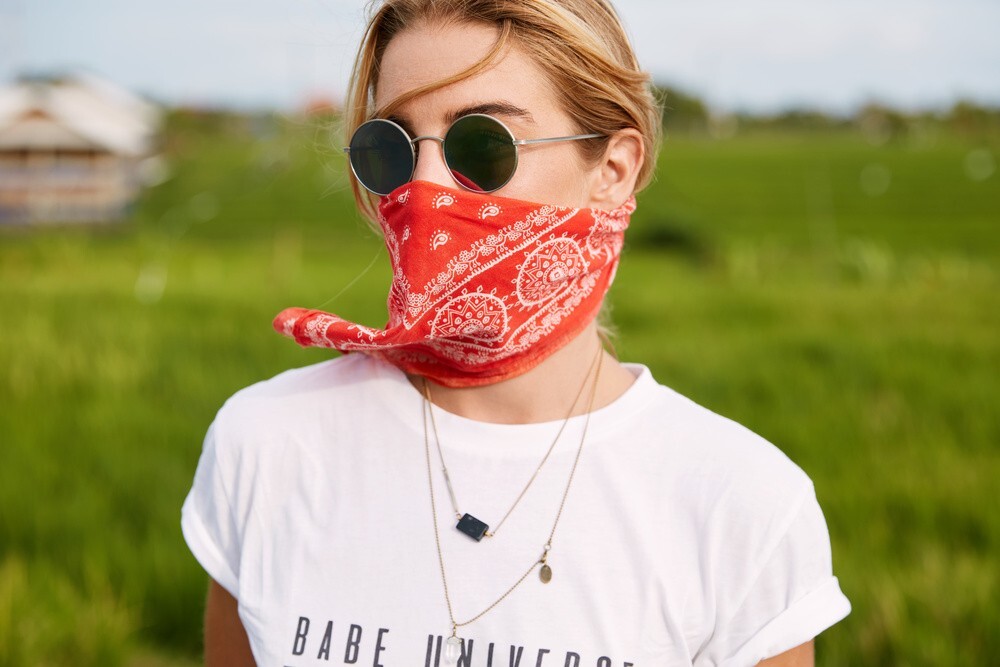 A bandana is a definite addition to your off-duty wardrobe. It gives a pressing edge to your casual laid back outfits off from the formal corporate attires. Other than this fact, a bandana head wrap can be worn in almost any season. You can sport a bandana during Fall when you all want to chill and be cozy in 60-degree weather. You can pair up a cotton bandana on head with board shorts and a top for a cool summer afternoon getup. And grab a satin-silky bandana hair scarf to style up a winter season dinner or party.
A leather jacket plus a bandana square can give you that perfect rockstar look. Music festivals and concerts are way ideal for sporting a bandana. You can pick a bandana neck gaiter, or wear it as a bandana hair to keep your long hair out of your face, or on your wrist to look chill and edgy.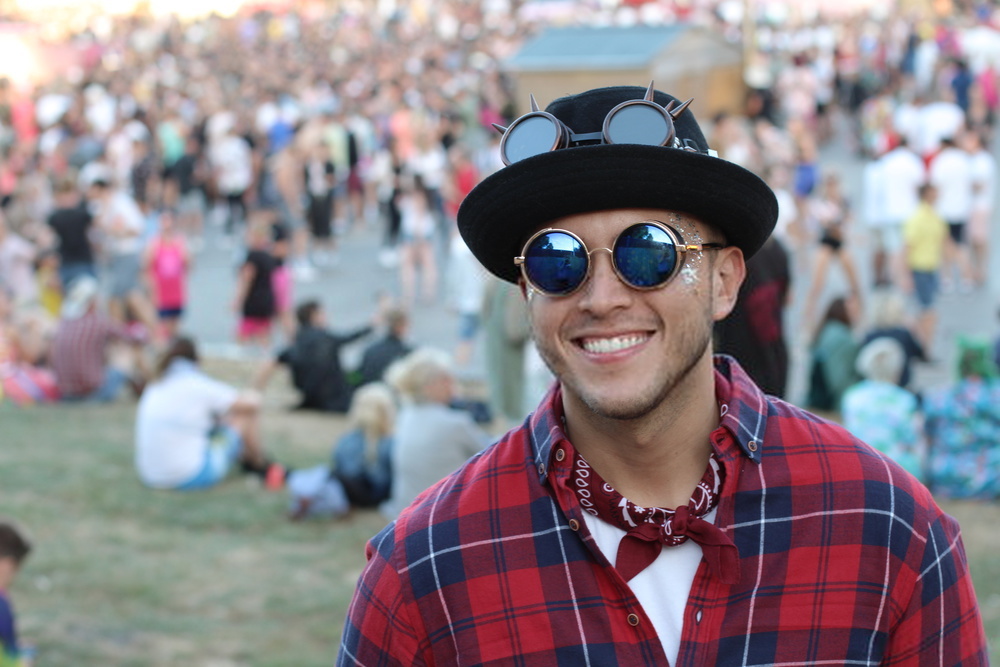 What fabric are bandanas made of?
Bandanas are usually 100% cotton-made. They are primarily lightweight and can be tied, scrunched, or rolled effortlessly. Preferably, cotton or fiber type fabrics are used for making a bandana because it will give the skin a space to breathe and sweat out even after wearing it on the head or neck for the longest time.
As time goes, some manufacturers have delved into making bandana fabric from the line and cotton mixes. They are made from a selection of understated colors, going away from the usual paisley prints and other patterns.
Today, silk or satin-made bandanas are becoming popular. Like cotton-made bandanas, a satin bandana is lightweight and easily styled. 4inbadana embraced this type of bandana and provided online shoppers with a quality product to choose from. Our satin bandana is printed in edge-to-edge deep full-color print. They can be customizable following our client's choice of design, color, and image size.
4inbandana's satin-made bandana is versatile in terms of usage. They are used as a headscarf, neckerchief, handkerchief, and just anything you can think of. Friends and colleagues can wear a satin bandana on most occasions such as during a party, sports, bachelor and bachelorette, camps, company team buildings, and others. Its versatility is doubled by its ability to repel moisture and control odor. It protects against wind and dust. We have it in full print color and certified to be soft silk satin fabric.
Our website is curated to provide an easy and quick ordering process that gives our shoppers the best online shopping experience for custom bandanas. We have a team of professionals that will assist you in your ordering process, especially during your design finalization. 
Check on to our website for your custom bandana and share it with your friends and families. Enjoy this best buy!