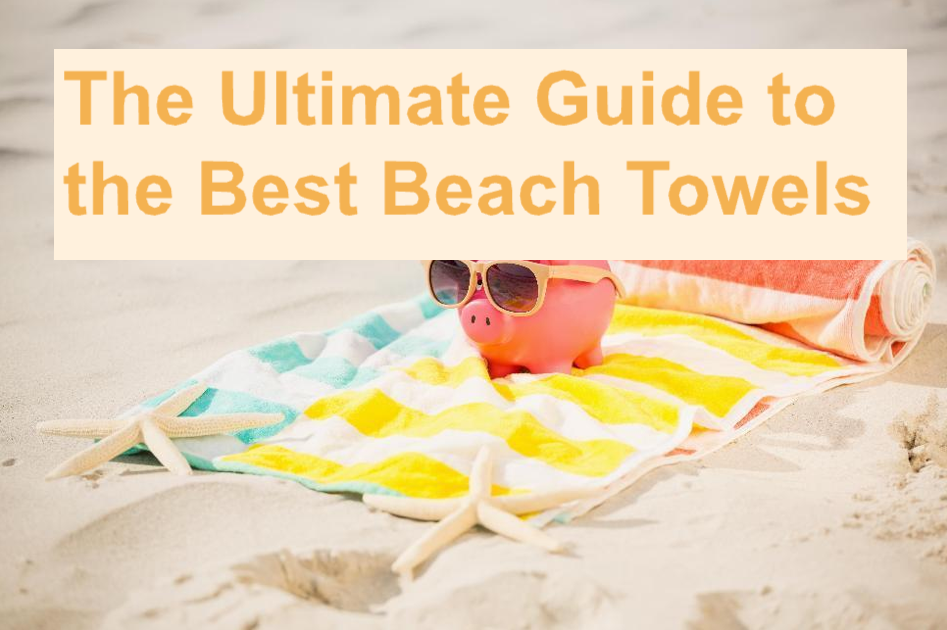 Who doesn't love summer? By now, it is just around the corner. Meaning it is time to start planning for fun activities under the sun! Whether you are preparing to go on a picnic, a beach trip, or a pool day, there's this essential item you should never forget to pack. These are personalized custom beach towels! 
Not only that these are practical must-haves, but they also make a statement and add a personal touch to your summer gear. Therefore, in this the ultimate guide to the best beach towels, we will discuss everything you need about custom beach towels to guide you in choosing the best deals for a full-pack fun summer. Read on!
Custom Pool Towel Vs. Beach Towel: What is the difference?
Let us first consider the difference between a pool towel and beach towels to set our minds on what we will discuss throughout this article. We all have this idea that custom pool towels and beach towels are similar in many ways. However, there are a few key differences between the two:
Size: Beach towels are typically larger than custom pool towels, as they're designed to provide more space to lay out on the sand. On the other hand, pool towels are usually smaller and more compact, as they're meant to be used primarily for drying off after swimming.
Thickness: Beach towels are often thicker and more absorbent than pool towels, as they need to soak up water and sand from the beach. Pool towels, conversely, may be thinner and less absorbent, as they're primarily used for drying off after swimming.
Material: Both beach and pool towels can be made from varied materials, including Cotton, microfiber, and blends. However, beach towels are often made from materials that are more durable and resistant to sand and saltwater. In contrast, pool towels may be made from more lightweight and quick-drying materials.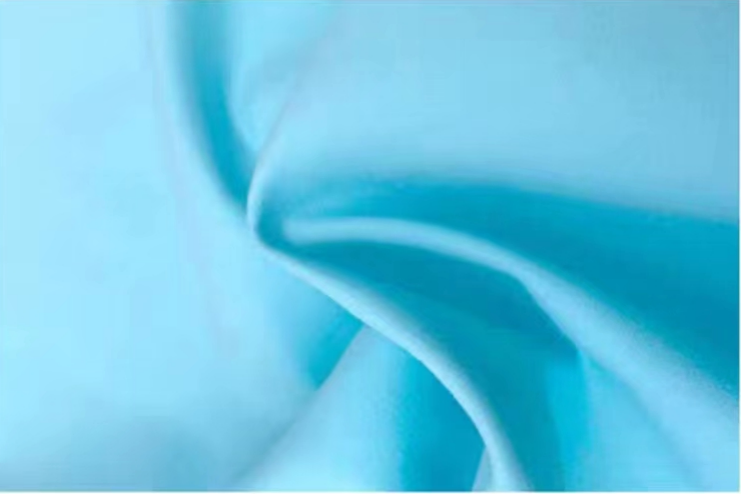 Design: Beach towels are often designed with bright colors, bold patterns, and fun prints, while custom pool towels may have a more straightforward, classic design. This is because beach towels are often seen as a fashion accessory, while pool towels are primarily used for function.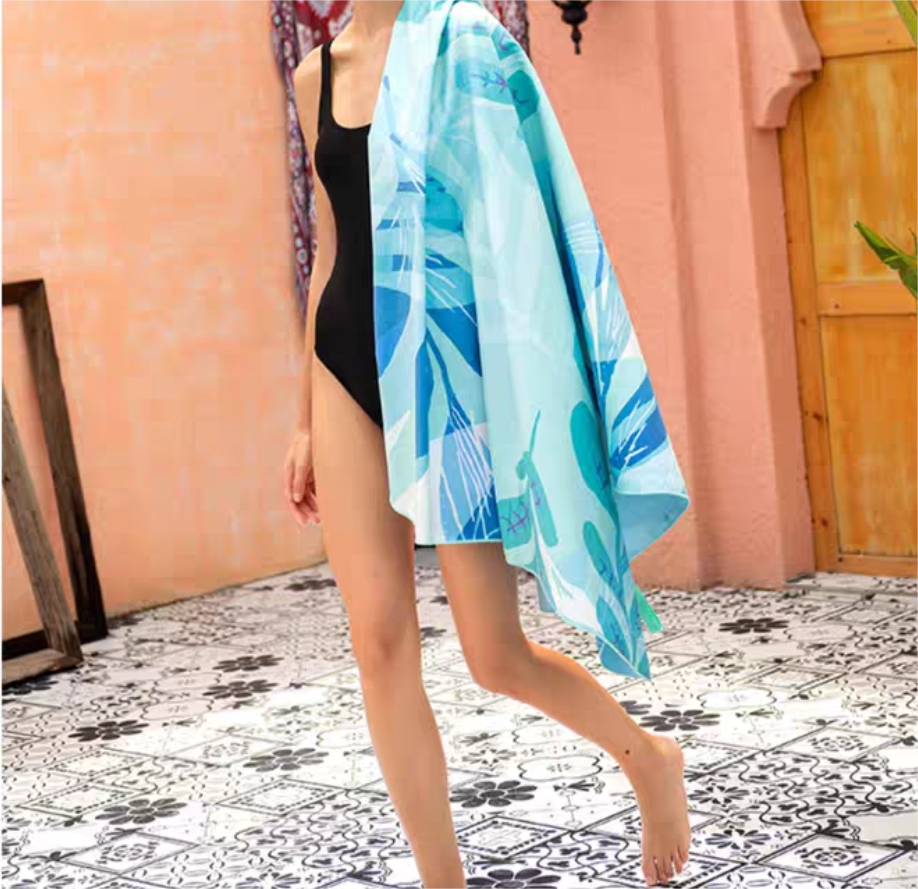 So, we've differentiated pool vs the beach towels already. Let us move towards understanding our main topic which is custom beach towels. And know its benefits first hand.
Benefits of Using Customized Beach Towels
Why do you have to customize your beach towels? Or why choose a personalized piece? Before diving into the deeper part of knowing these swimming towels, let us understand why most people choose to personalize this item. 
To be Unique. This is one of the leading reasons people customize printed beach towels for its uniqueness. Beach towels are customizable. Gladly, its size and material made gave me the privilege to be creative with prints and designs. So, you can choose whatever you want on them that is unique.
What is nice about being unique? 
Of course, it can set you out of the crowd and 
your beach towel will likely be distinct from the other towels. 
Having individual unique swimming towels is also advisable for families with several children. It is nice to have their names printed on their custom towels to keep track of everyone's belongings easily. 
To enhance Branding. For business owners, custom towels can advertise your brands. As they are always used, they are a must-have, even in people's lives—an excellent way to promote. Especially for events, have your logo or the event name printed, and you'll instantly have a walking billboard!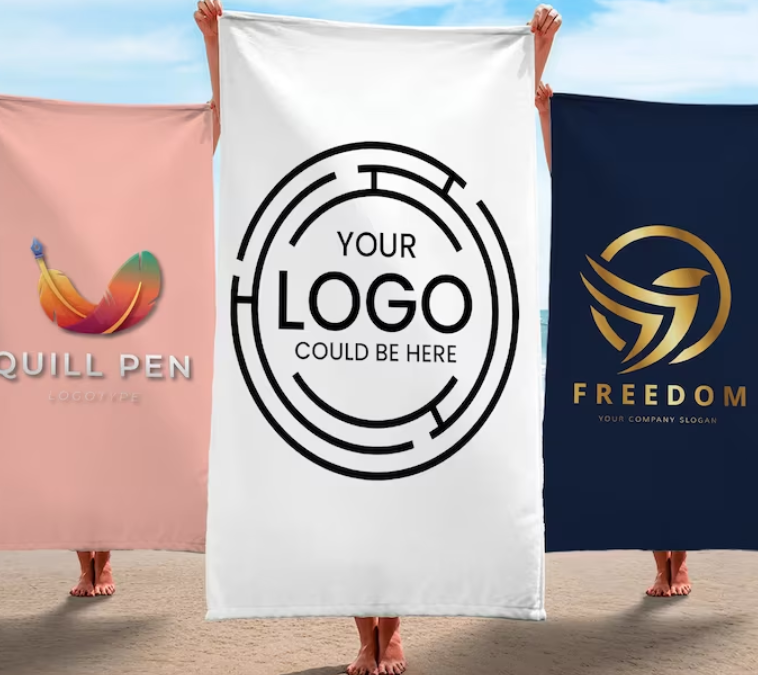 For giveaways. Custom towels are also the best giveaways to give at family celebrations, events, and special occasions. As mentioned, they are practical and valuable and can be the best avenue to increase brand awareness.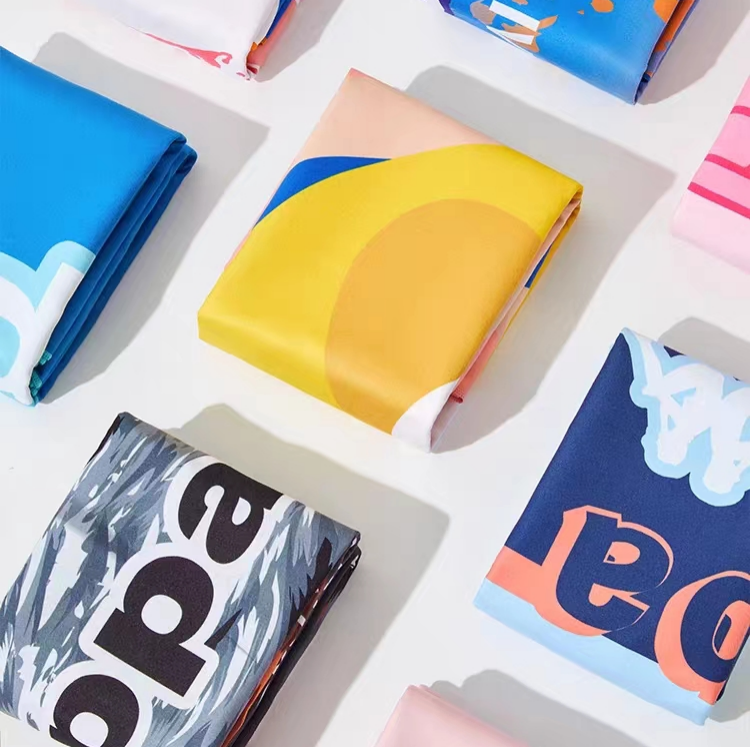 Recognition. A custom-printed beach towel can help you stand out on the beach, making it easier to spot your towel among other beachgoers. This can be especially useful in a crowded beach or pool area.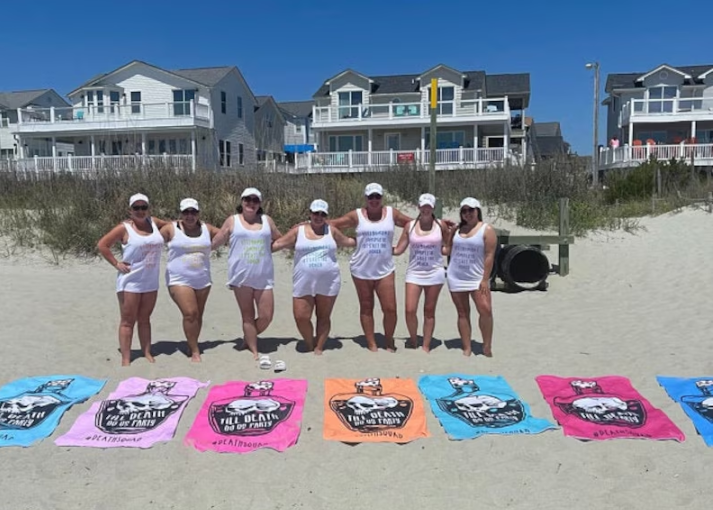 Durability. Custom-printed beach towels are made to last and are often constructed from high-quality, soft, and durable materials. They can withstand regular use and washing and are designed to hold up well over time. 
Considering the above information, you might have a few ideas for your custom towel ventures. However, there are more things that you have to know first-hand. Keep reading and know these essential details:
1. Size – size is one aspect that sets custom made towels apart from regular bath towels. If you place them side by side, you will notice that a beach towel is more prolonged and broader than the average bath towel. This is because beach towels are designed to accommodate your whole body when resting on the beach bed and prevent your skin from touching the hot sand and stones. Standard beach towel size ranges from 60 inches to 30 inches.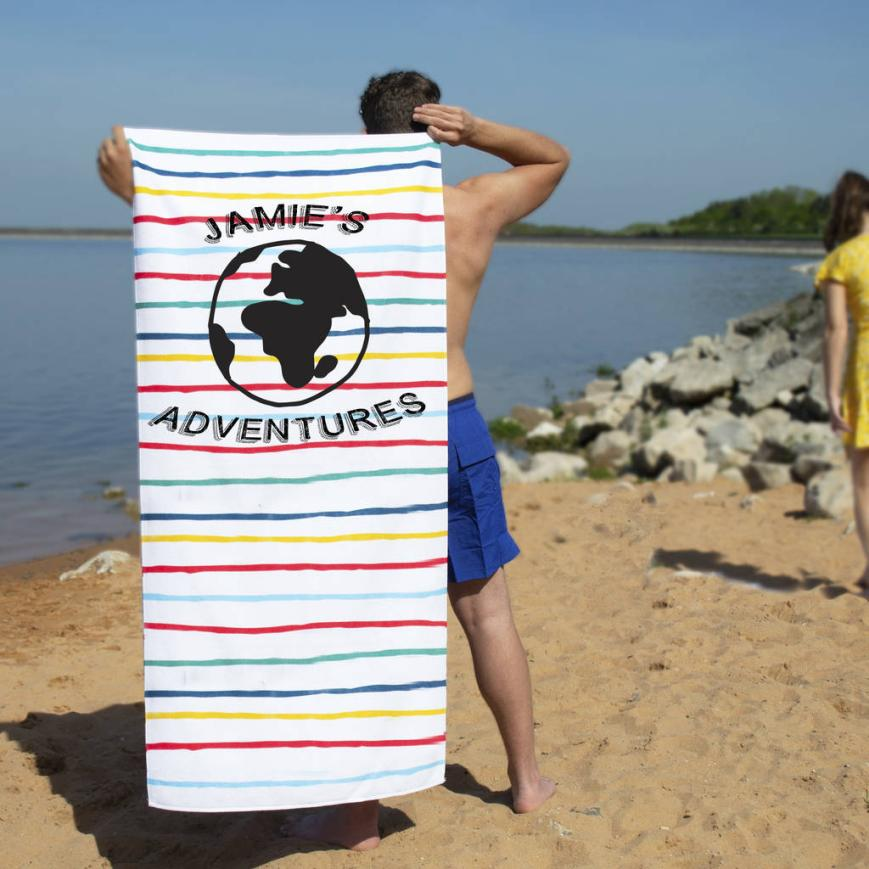 2. Thickness – It is also essential to consider the towel's thickness since it will always be prone to tear and wear. It will be laid on, stepped over, and constantly exposed to the sun. Aside from making people's bodies dry up after swimming, it can be used as a tanning bed, a cover-up, and even a blanket. Therefore, a beach towel must be thick enough to withstand many such purposes. 
To determine the thickness and plushness of the towel, you need to look at its GSM (grams per square meter) percentile. A standard GSM grade for beach towels ranges from 400 to 600 GSM.
3. Design – The beach, with its ultra-blue waters, sand as white as the clouds, and the green trees surrounding it, are a perfect canvas to stand out. Luckily, beach towels are available in different designs and materials that you can choose from depending on your preferences. Grab this chance to express who you are with unique prints and designs of your custom beach towel Some standard methods are stripes, tropical sceneries, graphic art pieces, animal prints, and the classic monochrome design.
4. Functionality – As mentioned, custom made towels serve many functions; from drying people's bodies to being a sunshade and a striking accessory, it is justifiable to choose the best.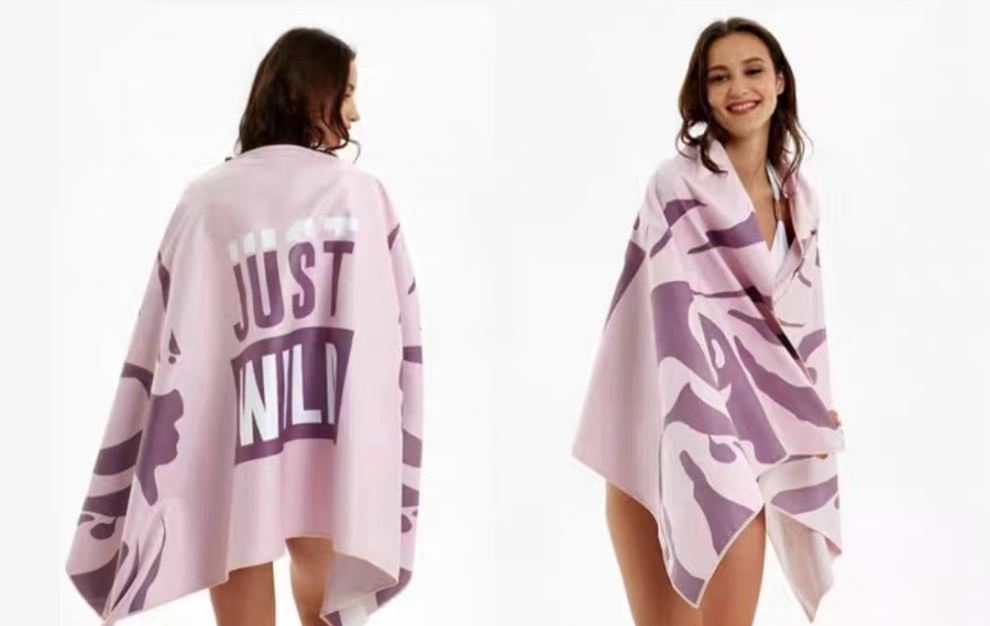 5. Portability – If you go to the beach, you are expected to bring many other things, such as changing clothes, food, swimming gear, etc. Be sure to choose a lightweight, portable towel to lessen the burden of bringing heavy things. Choose something compact and insert it into your beach bag with no hassle. But depending as well to your need. If you need to bring an oversized towel for the family, be reminded that it needs space and can weigh heavy.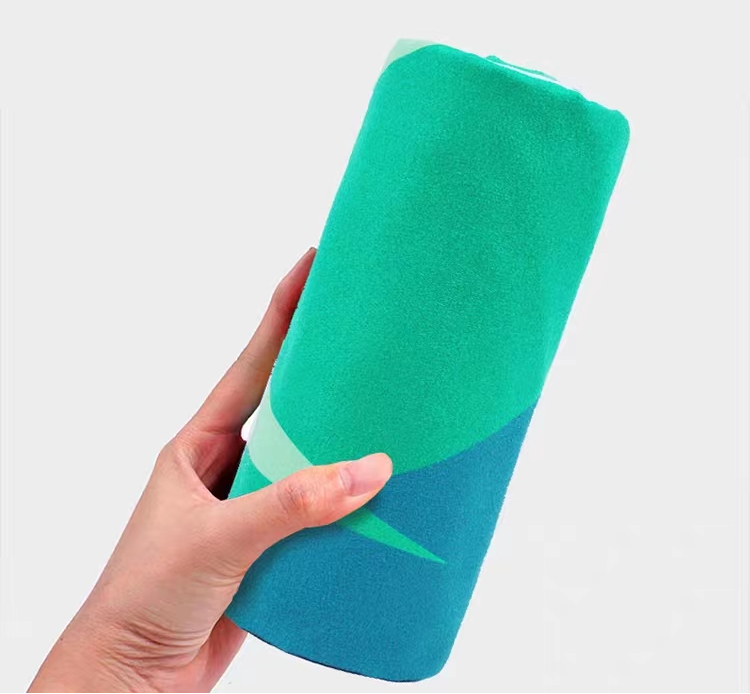 What is the most common material for custom beach towels?
We can only tell you how each of these materials feels and provide, but it is still up to you to choose which best material goes well with your preferences. Here are some of the primary custom beach towel materials available. 
a. Cotton – this material is one of the top picks for beach towels. Since this material is absorbent, soft, and fluffy, it dries quickly. These are vital factors most people look for in a beach towel. However, it is observed that cotton-made beach towels tend to fray more rapidly than the other material types.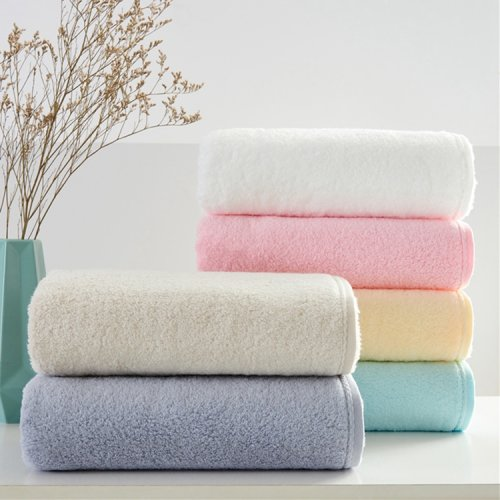 b. Egyptian Cotton – Unlike regular Cotton, Egyptian Cotton has extra lo9ng fibers and a high absorbency rate. It is handpicked, meaning less stress is imposed on the material, leaving each fiber straight and intact. This results in having fine threads with good length, strong and soft. These types tend to have longer life span than that regular Cotton if given proper care.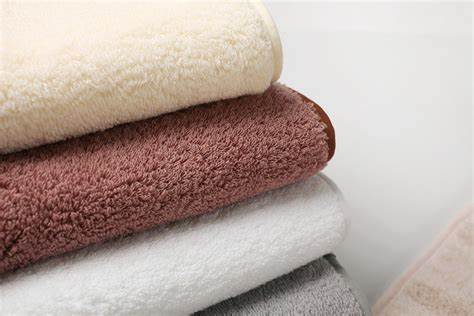 c. Turkish Cotton – is more like Egyptian Cotton but shorter and smoother. This material is also made from extra-long fibers that are soft and smooth.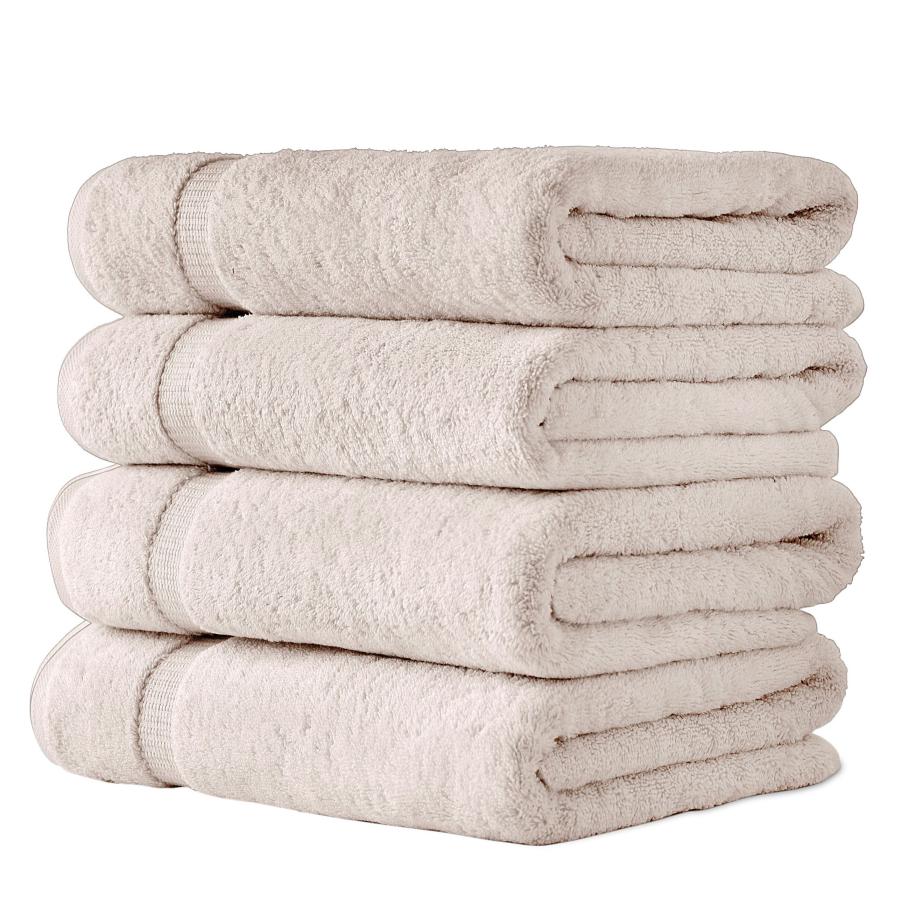 d. Microfiber – A new alternative to towel material these days is microfibers. It is now becoming popular in the market and definitely in demand. These are artificial materials, usually a mix of polyester and polyamide. It has several advantages that make it stand out from the rest.
Extra absorbent – its ends are split, making them more absorbent than the others
It dries fast than any other towels
It is more durable than the natural fiber 
Lightweight 
And they are compact, making them ideal for travel. 
Are microfiber beach towels better than cotton beach towels?
Microfiber custom beach towels have some advantages over cotton towels, but whether they are "better" depends on personal preference and intended use. Let us weigh the advantages and cons of these two rivals, and we'll see for ourselves. 
Microfiber beach towels have several advantages, including:
Quick-drying: Microfiber towels are designed to dry quickly, which is ideal for use at the beach or pool. They can absorb much water without feeling heavy or soggy and dry faster than traditional cotton towels.
Lightweight and compact: Microfiber towels are typically much lighter and more compressed than cotton towels, which makes them easy to pack and carry in a beach bag or backpack.
Highly absorbent: Microfiber beach towelsare known for their high absorbency, which means they can absorb more water than cotton towels. This makes them ideal for use at the beach or pool, where you need to dry off quickly and efficiently.
Durable: Microfiber towels are generally more durable than cotton towels, which means they can withstand more wear and tear over time. They are less likely to shrink or fade in the wash and can handle repeated use without losing shape or texture.
Easy to clean: Microfiber beach towelsare easy to clean and manage, as they can be cleaned in the washing machine with ordinary laundry detergent. They also tend to dry quickly, so you can use them again soon after washing them.
Overall, microfiber beach towels are an excellent choice for a lightweight, quick-drying, highly absorbent, durable, and easy-to-clean towel.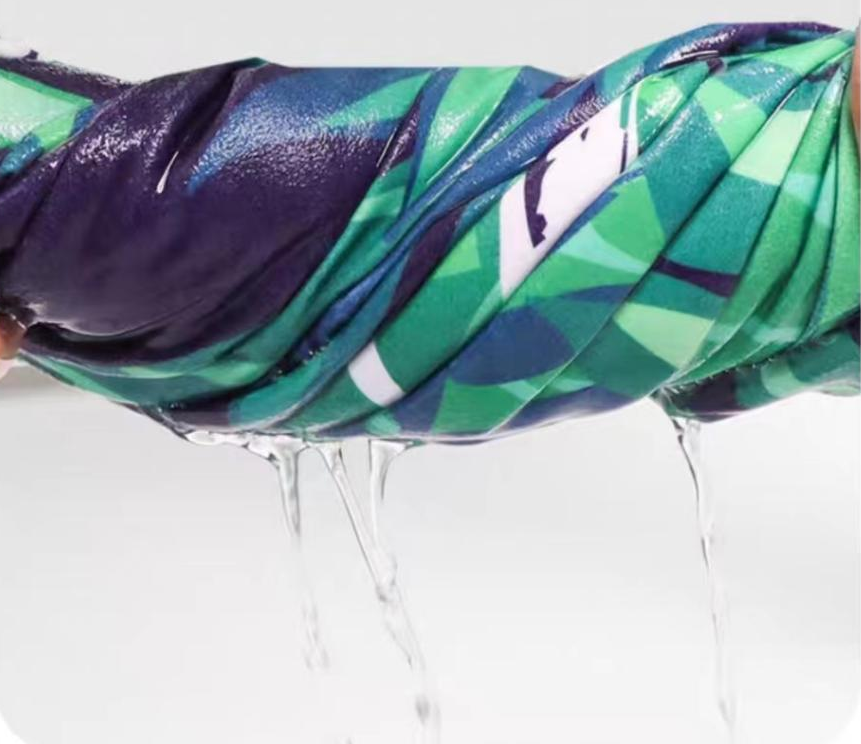 While microfiber beach towels have many advantages, there are also some potential drawbacks to consider:
Not as Soft as Cotton: While microfiber towels are absorbent and quick-drying, they are less soft than cotton towels. Some people may find that the texture of microfiber towels is less comfortable than cotton towels, mainly when used for prolonged periods.
May retain odors: Microfiber towels can sometimes retain odors if not washed and dried properly after each use. This can be a problem, primarily if the towel is used frequently in warm, humid conditions.
Maybe less eco-friendly: Microfiber towelsare made from synthetic materials, which may be less eco-friendly than natural cotton towels. Also, microfiber towels may shed microfibers into the water when washed, harming marine life.
May have limited design options: They are only sometimes available in as many colors or designs as cotton towels, limiting your options when choosing a towel that matches your style.
Overall, microfiber beach towels are a good choice for those who prioritize quick-drying, lightweight, and durable towels. However, those who value softness and eco-friendliness may prefer cotton towels instead.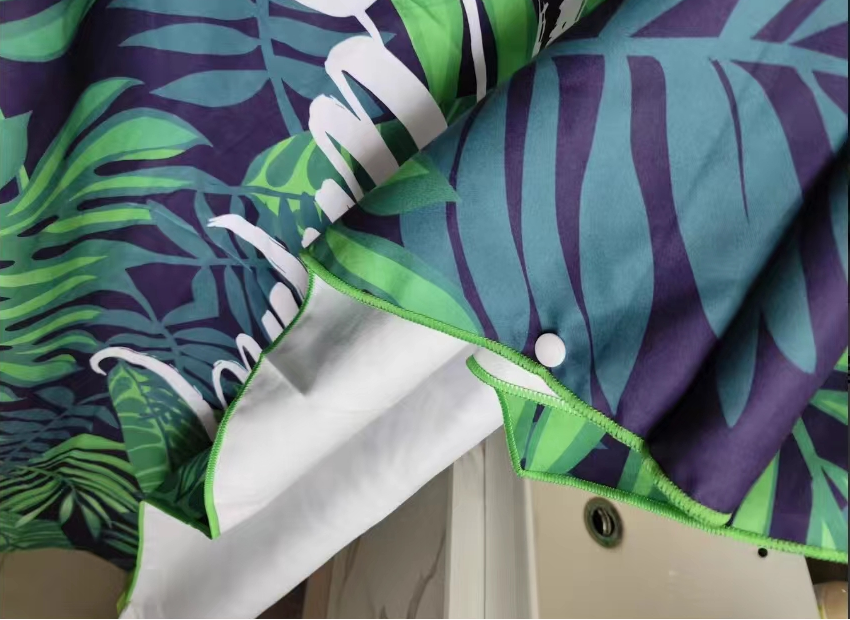 Cotton beach towels have several advantages, including:
Soft and comfortable: Cotton is a natural fiber known for its softness and comfort, making it a popular choice for beach towels. Cotton towels are often plush and cozy, perfect for lounging on the beach or by the pool.
Good absorbency: Cotton is also known for its absorbency, which means it can absorb a significant amount of water. This makes it ideal for drying off after swimming or in the sun.
Classic style: Cotton towels are a classic choice for beachgoers and are available in various colors and patterns. They have a timeless look and feel that many people find appealing.
Durable: Cotton is a strong and durable fiber that can withstand regular use and washing. Cotton beach towels are often thick and well-made, meaning they can last several years with proper care.
Eco-friendly: Cotton is a natural, renewable, biodegradable resource, making it an eco-friendly choice for beach towels.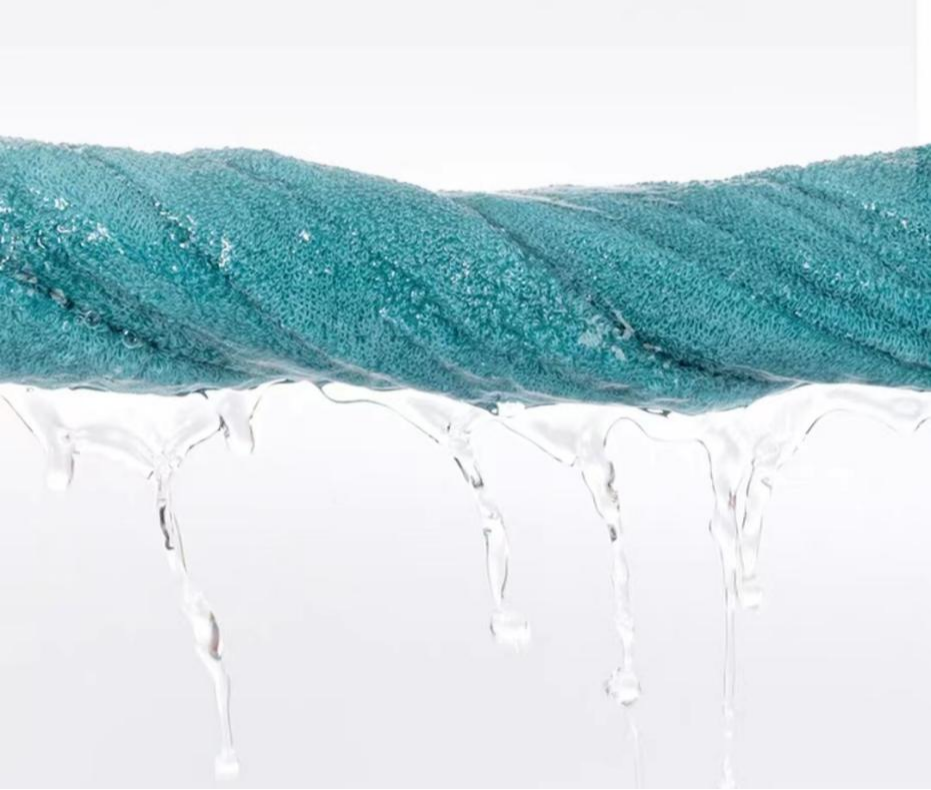 These cotton beach towels are an excellent choice for a soft, absorbent, durable, stylish, and environmentally friendly towel. However, it may project highly recommended advantages of cotton beach towels, but there are some potential downsides to consider:
Slow drying time: This beach towels can take longer than microfiber towels, especially if they are thicker or more densely woven. This can be a disadvantage if you need to pack up and leave the beach quickly or if you want to avoid musty smells from the towel.
Heavy and bulky: They are typically thicker and plusher than microfiber towels, making them richer and bulkier. This can be inconvenient if you travel or have limited beach bag space.
May not be as durable: This towel can sometimes be less stable than microfiber towels, exceptionally if they are not cared for properly. They may shrink, lose shape, or become faded or discolored over time.
Less absorbent: While cotton towels are absorbent, microfiber towels may be less porous than they are, especially regarding larger spills or more water absorption.
Prone to mildew: Cotton towels can be prone to mildew and musty odors if not washed and dried properly after each use, especially in humid or damp conditions.
From all of these, cotton beach towels are a classic choice for those who value softness, comfort, and traditional style. However, those who prioritize quick drying and durability may prefer microfiber towels.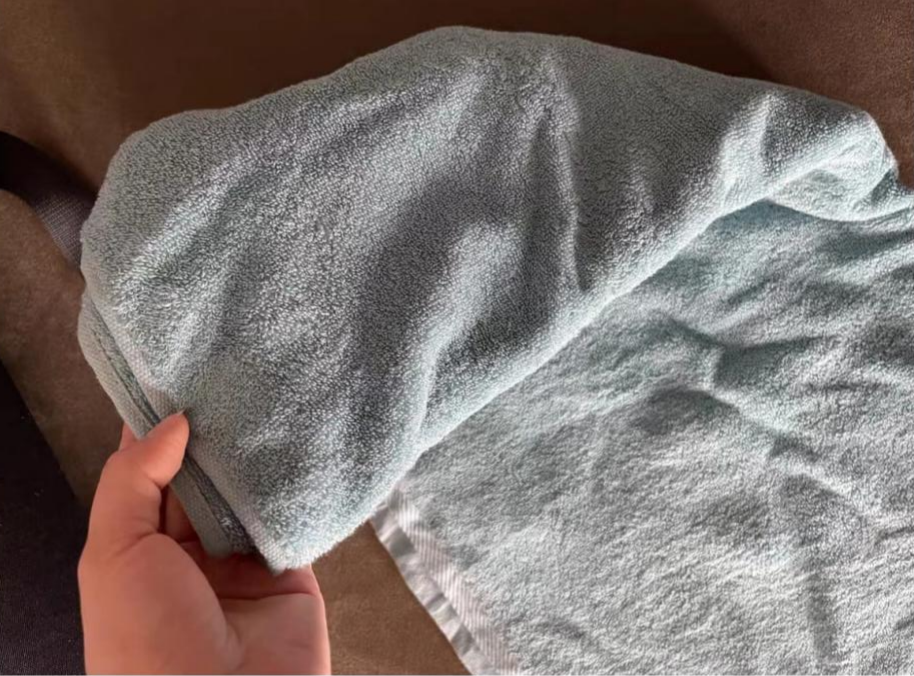 Is it better to have plain-colored towels or custom-printed beach towels?
Plain-colored towels are a classic choice that matches any beach outfit or bag. They are adaptable and can be used for other purposes, such as bath towels or picnic blankets. Additionally, plain towels are less likely to show signs of wear and tear or stains, making them a more practical choice.
On the other hand, custom-printed beach towels can be a fun and unique way to express your personality or showcase your brand. They are great for promotional events or as gifts for friends and family. Custom-printed towels can also add a pop of color and style to your beach day and make it easier to spot your towel in a sea of other beachgoers.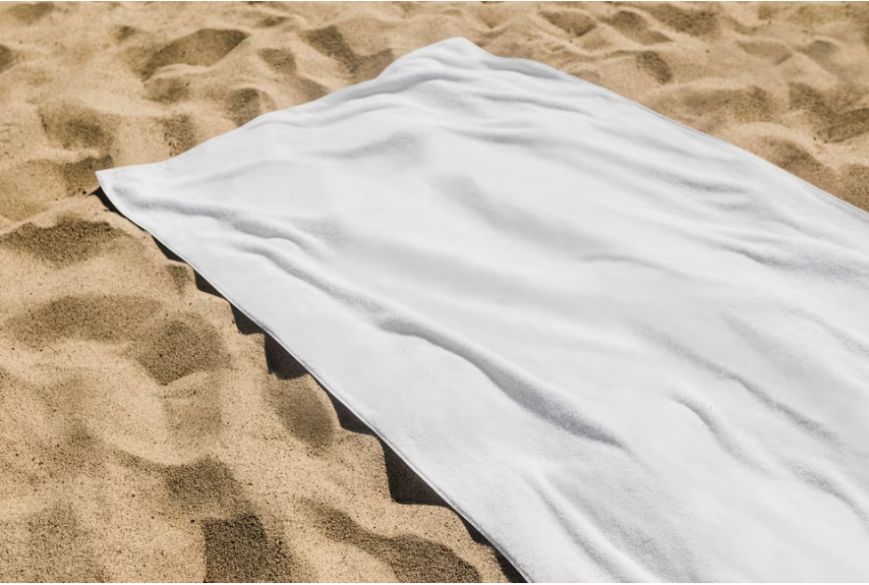 How often do you have to wash custom beach towels?
Washing custom swim towels after each use is an excellent idea to keep them clean and free of bacteria, sand, and sunscreen residue. If you don't have access to a washing machine at the beach, you can rinse the towel thoroughly with fresh water to remove sand and dirt. Hang the towel to dry in a well-ventilated area, and avoid leaving it in a damp or enclosed space, as this can cause mold and mildew to grow.
If you're using the custom swim towels for multiple days, it's best to hang it up to dry completely between uses and to wash it at least once a week. However, if the towel starts to smell or feel damp or musty, it's a sign that it needs to be washed more frequently. Washing beach towels separately from other laundry is also a good idea, as sand and sunscreen residue can damage other fabrics. Follow the care instructions on the towel's label, and fend off using fabric softeners, as they can reduce the towel's absorbency.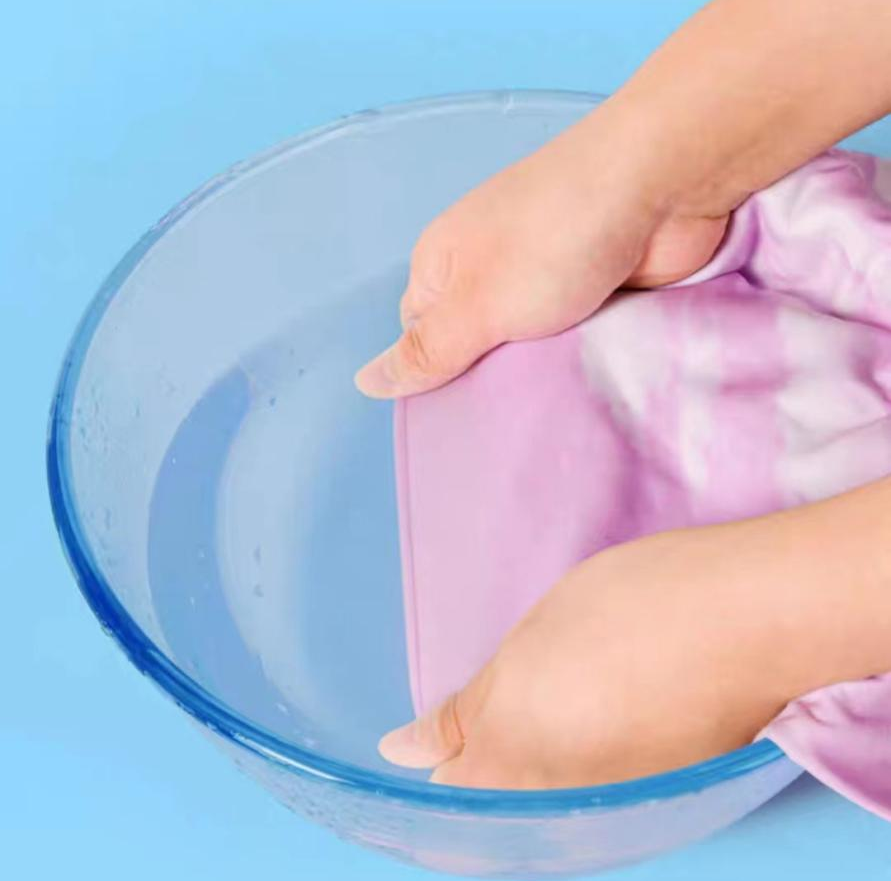 When is it time to replace custom beach towels?
The lifespan of a custom-made beach towel will depend on several factors, including the quality of the material, how often it's used, and how well it's cared for. However, there are some signs that it may be time to replace your custom-made beach towel:
Damage: If your towel has holes or frayed edges or is starting to fall apart, it's a sign that it's time to replace it.
Fading or discoloration: Over time, exposure to sunlight, chlorine, and saltwater can cause colors to fade and the towel to lose its vibrancy.
Odor or stains: If your towel has a persistent odor or stains that won't come out even after washing, it may be time to replace it.
Loss of absorbency: If your towel is no longer absorbing moisture as well as it used to, it may be time to replace it.
Rough or scratchy texture: If your towel feels rough or scratchy, it may be a sign that the fibers are starting to break down, and it's time to replace it.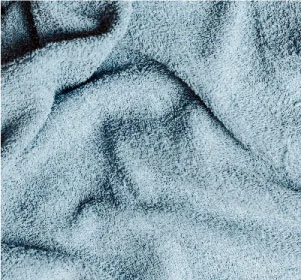 How do you keep custom printed beach towels clean and tidy?
To keep your swimming towels clean and tidy, here are some tips to follow:
Wash after every use: It's essential to wash your beach towels after each use to prevent the buildup of sand, salt, and sunscreen. Shake out the towel to remove as much sand as possible before washing.
Use hot water: Wash your swimming towels in hot water to help remove any lingering sand or dirt.
Use a mild detergent: Use a gentle, mild detergent to avoid damaging the fabric.
Avoid fabric softeners: Fabric softeners can coat the fibers of your beach towels and make them less absorbent. Avoid using them.
Hang dry: If possible, use your beach towels to dry in the sun. This will help remove any lingering odors and bacteria. Avoid using a dryer, as the heat can damage the towel's fibers.
Store in a dry place: Store your beach towels in a dry, well-ventilated space to counter the growth of mold and mildew.
Consider using a beach towel clip: A beach towel clip can help keep your towel in place and prevent it from blowing away in the wind, which can help keep it cleaner and tidier.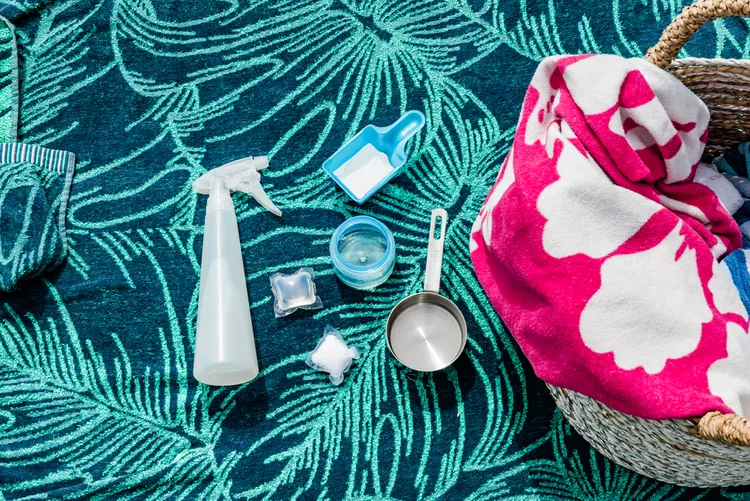 Where to Buy Custom Beach Towels?
4inbandana is the best place to go when it comes to custom beach towel needs. They offer custom beach towels wholesale that are proven high quality and affordable. They use a CMYK full printing color to make sure your desired design is printed well and vibrant even after how many washes. 
The ordering process is also easy with 4inbandana. They have formulated an ordering process that can accommodate everything you need to do in your customization needs in a few clicks. Their professional customer service representatives are always ready to assist customers with their orders, especially optimizing their designs. 
4inbandana offers microfiber custom beach towels. Hurry, check what they got for! Visit their website now!