Get 10% OFF For Your Order Today! Use Coupon Code
SAVE10
ADULTS

KIDS

PETS

HOT PRODUCTS
Durable Custom Buckle Dog Collars
Price chart
| Qty | 5 | 10 | 25 | 50 | 75 | 100 | 250 | 500 | 1000 |
| --- | --- | --- | --- | --- | --- | --- | --- | --- | --- |
*If the quantity you need more than 1000 pieces, please
contact us
to get a lower wholesale price.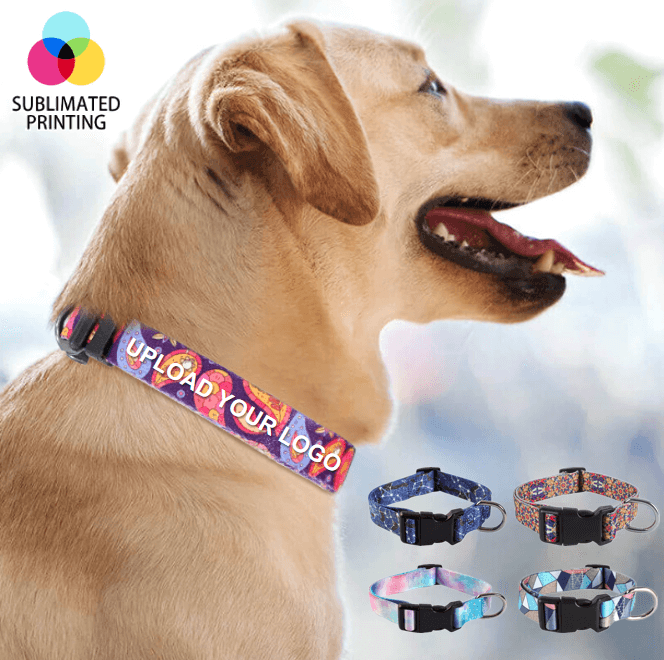 DESCRIPTIONS
Crafted from high-quality Polyester fabric, the custom printed dog collars protect your pup from trouble when you go out walking or on adventures. It's durable, solid, safe, and easy to clean. The plastic buckle is curved and more comfortable to wear, guaranteeing a pleasant experience for your pet. Custom your dog's look with any design or symbol you want on your eye-catching dog collars, custom logo dog collars wholesale can also help you build your own brand.
3 adjustable sizes, small, medium, and large, easy to use by side release buckle, are available for dogs of different sizes and breeds.
Do your dogs slip out of regular collars? That's all right. 4inBandana custom buckle dog collars can adjust the size by yourself and are a surefire way to keep securely around your puppy's neck. Plus, you don't need to hang any annoying dangling tags from it!
4inbandana provides you with high-quality customized products and services as always.
FEATURES
Healthy Material - Premium Polyester Fabric
Safe Benefits - When you're out walking or need to tie him up in an unfenced area, it's a relatively safe way to protect your dog from trouble.
Solid accessories - The plastic buckle is durable and curved for your dog's comfort when they go out for adventures
Adjustable collar - Available in 3 adjustable sizes with an easy-to-use, side-release buckle.
Optional Sizes: S- 9inch-16inch, M- 13inch-22inch, L- 16inch-26inch
Stain Resistant - It's easy to keep their custom collars for dogs clean by hand washing with a mild detergent
Stylish and Durable D-Ring connects easily to leashes
Double-side Heat transfer (sublimation) Printing
Custom Design will be sent to you within 12h via email.
Help Pet Supermarket & Pet Hospital build their own brands
1. Quantity Options
Enter Quantity:
What color would you like?

Upload logo file

Upload completed

Files accepted: JPEG, GIF, PNG, EPS, PDF, PSD, AI, BMP, TIF, TIFF
What size would you like?
Enter your comments
2. Select delivery date
Review Order Details
Add to cart
We guarantee that your goods will be delivered within:
--