Get 10% OFF For Your Order Today! Use Coupon Code
SAVE10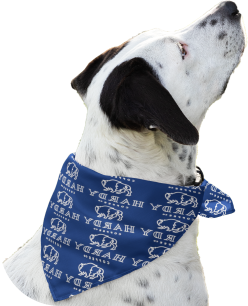 Custom Dog Bandanas
Small Batch Manufacturing
We are trusted by vets, pet clinics,
pet CBD companies, pet shops
throughout America!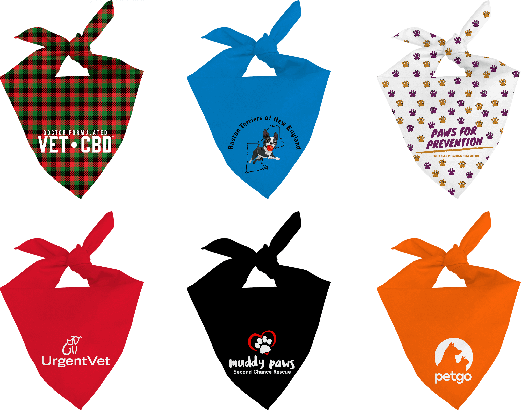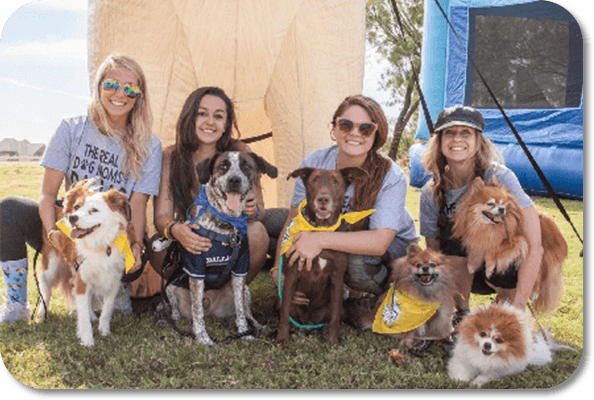 Get Your Premium Custom Dog Bandanas Today!
Affordable Lycra fabric is the best choice for personalized dog
bandanas which protects your pup from sunburn and clean easily.
Whats'more, custom logo dog bandanas from 4inbandana® is all-
over full color printed. Your satisfaction is our primary goal as always:
Lowest Price Guarantee: As low as $2.23.
All-over Printing: Customized as you wish.
Pet-friendly Fabric: Lycra fabric is gentle to pet's skin.
Custom Dog Bandanas No Minimum.
What We Have Done for Our Customers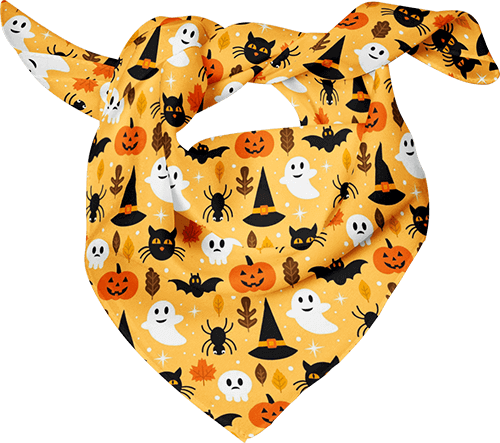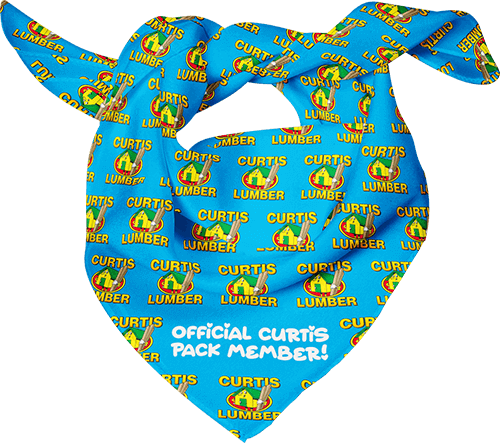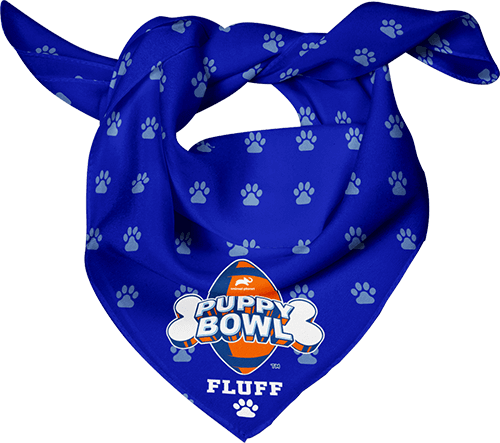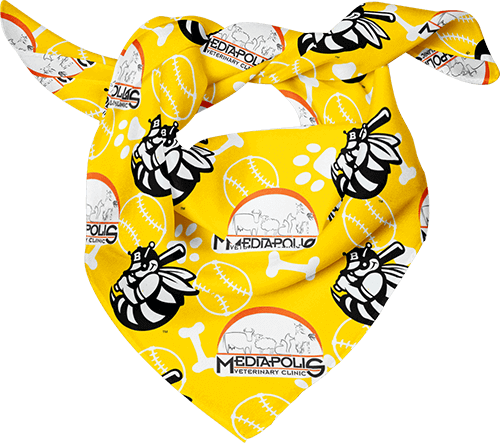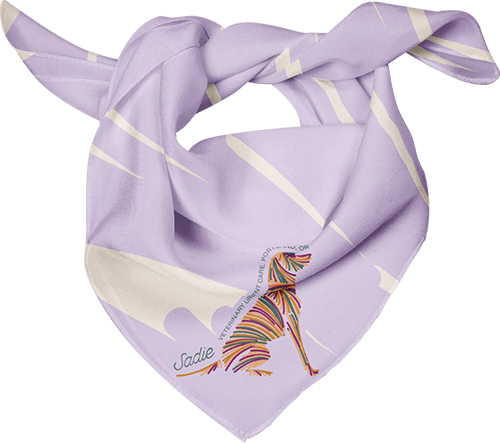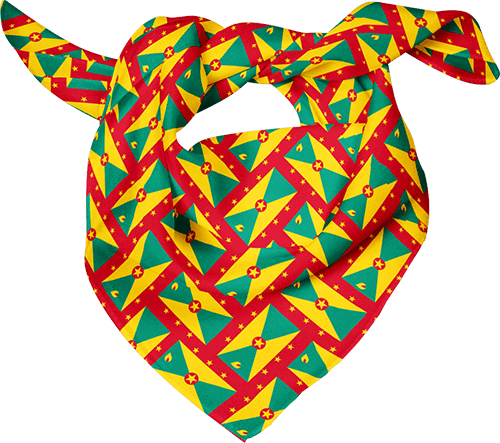 Learn How to Put Personalized Dog Bandanas on Your Dogs
Want to know more details about personalized dog bandanas? Click here to have a look

Who Need to Custom Dog Bandana With Logo?
Personalized bandanas for dogs can not only express their puppy's personality but help people to express their pet-
friendliness.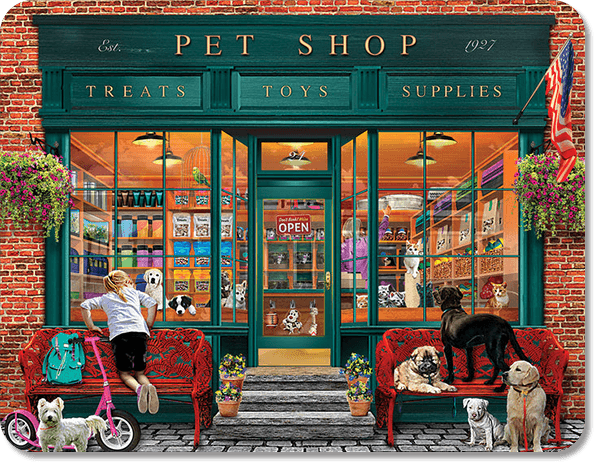 Pet Shops
Bandanas for dogs are a basic accessory in dog clothing. Almost every owner will buy cute printed dog bandanas for their furry friends. Therefore, this kind of custom printed dog bandanas is indispensable in pet supermarkets. Usually, pet supermarkets will customize dog bandanas bulk according to different holidays and different themes for retail, including Christmas, Thanksgiving, Halloween, Easter, etc.
Many pet lovers are willing to share the joyful festive mood with their puppy. The sales of holiday dog bandanas will increase rapidly when the important holiday comes. Therefore, stock up in advance so as to get more orders.
Pet hospital
As more and more families keep pets, pet hospitals have come into being. It is inevitable that competition in this industry is increasing. Sublimation dog bandanas as an affordable promotional gift, many vet centers will customize bandanas for dogs bulk with their brands and give them to dogs who come for treatment. This effectively marketing helps them promote their brand easily.
In fact, not only do pet hospitals often use this marketing method, but many related pet industries also give custom dog bandanas with logo to their customers, like dog grooming, training, caring, boarding, , etc.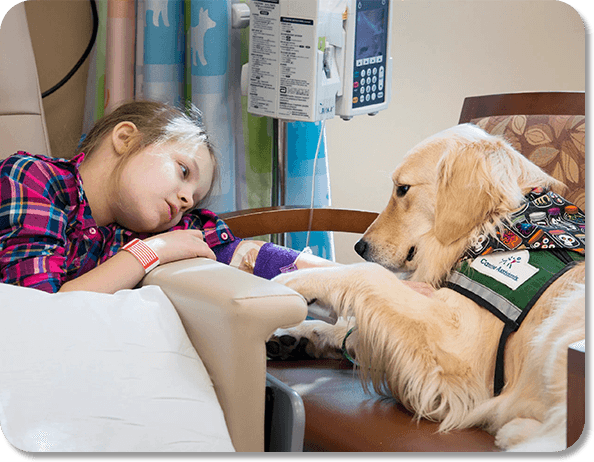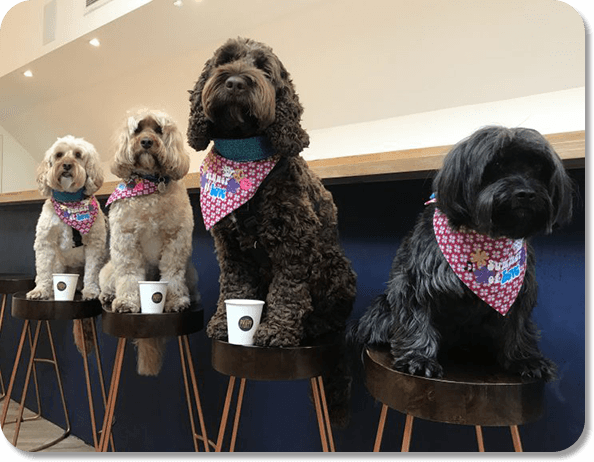 Pet-friendly Company
There are more and more pet-friendly companies, bars, coffee shops, restaurants, etc. Pets are a part of many families. On the annual Take Your Dog to Work Day, many companies will allow their employees to bring their dogs to work. Generally, these companies or shops will send custom pet bandanas to their employees and customers to show their friendliness.
Nowadays, more real estates take their brands very seriously. Many of them try to customize logos on pet products to give their customers or employees who keep a pet as a gift, such as dog bandanas with company logo, dog collars, dog patches, dog tennis, etc. Their customers will feel that they are friendly not only to people but also to pets.
Promotional Dog Bandanas on 4inbandana.com
As your professional choice for cheap logo dog bandanas at wholesale or retail, we offering high-quality, durable custom printed pet bandanas at affordable prices.
We would always love to help you creating lasting keepsakes for your lovely dog families and remember the good memories! The unique branded dog bandanas makes your puppy stand out.
Moreover, it is also perfect for your brand promotion campaign.
All printings are done in-house, and our professional quality control department will inspect them to ensure you 100% quality logo dog bandanas with free shipping.
See more about your best custom pet bandanas wholesale? Let's get started now!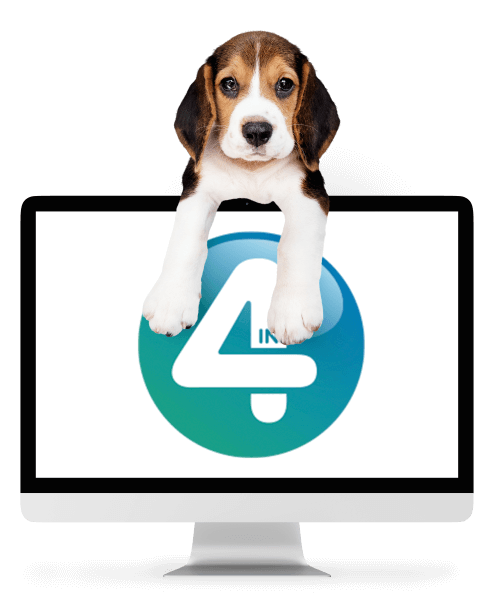 4 Steps to Get Your Custom Printed Dog Bandanas on 4inbandana.com
STEP 1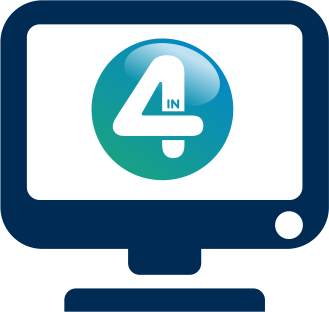 Choose Order Details
Select the qty, color & delivery date, and upload your artwork.
STEP 2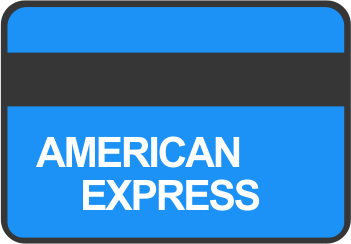 Checkout
Both of Credit Card and PayPal are acceptable.
STEP 3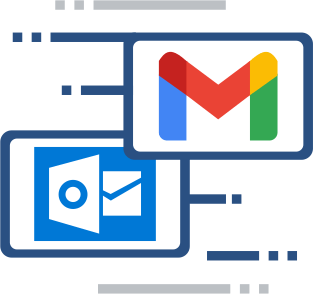 Artwork Confirmation
Your exclusive design draft will be finished and sent within 12h via email.
STEP 4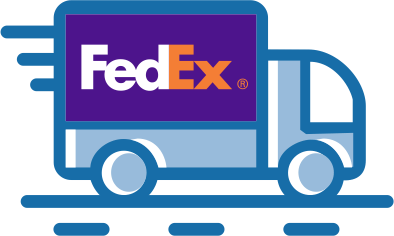 Your Order Delivered
Your custom made dog bandanas will be delivered in time via FedEx IP Service.
You only need to Upload the Artwork you want, we will handle the rest and offer you The Best Custom Bandanas For Dogs!
Take Words from Our Customer
"Purchased printed pet bandanas in bulk for a "yard" themed photo shoot for a doggy daycare center. We photographed probably 50 different pets wearing different bandanas which printed holiday patterns, our logos, "Don't Pet Me" texts, etc. Dog bandana sizes are surprisingly matched, especially for the small dog bandanas! Perfecto! The sales team is so professional. Great quality, soft and lovely. Washable and dry quickly. Highly suggested for their personalized dog bandanas."
Nathan H.
Owner & Pet Lover
Canine Complex of Cape Cod
"The cheapest dog bandana custom logo I've ever met, while with surprisingly high- quality.
Our dogs LOVE their new scarves! We offer them several choices of design each morning and they choose by leaping and grabbing one in their mouths. Once we put it on them, they "prance" around the house. These large size dog bandanas seem comfortable to them.
Outstanding no sew custom dog bandannas and my 3 lovely babies look so cute when wearing them!"
Elizabeth B.
Owner & Pet Lover
Riley's Doggie Daycare
Brands that trust us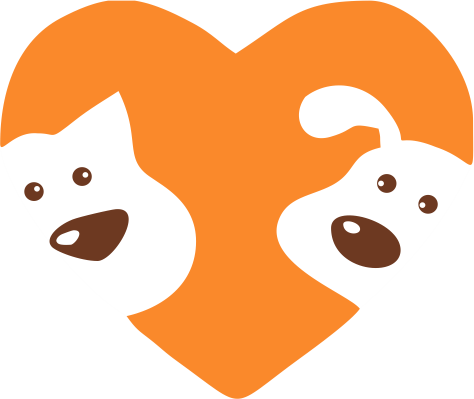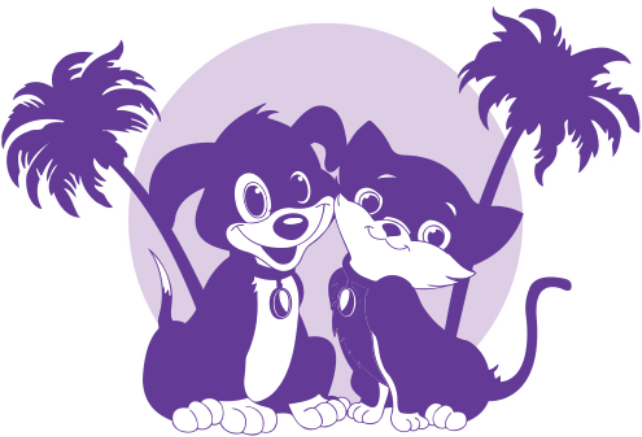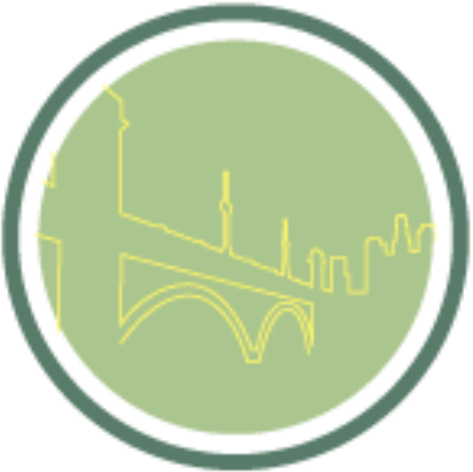 Everything You Need to Know About Personalized Dog Bandanas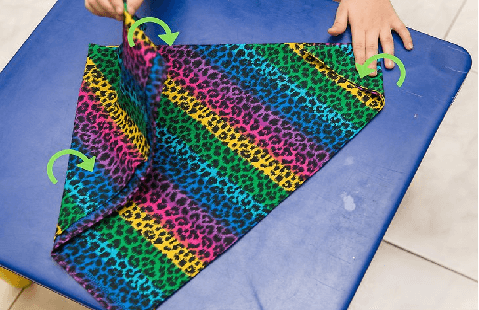 How to Put a Bandana on a Dog
There are some tips for you to learn how to tie the bandana on your pet quickly.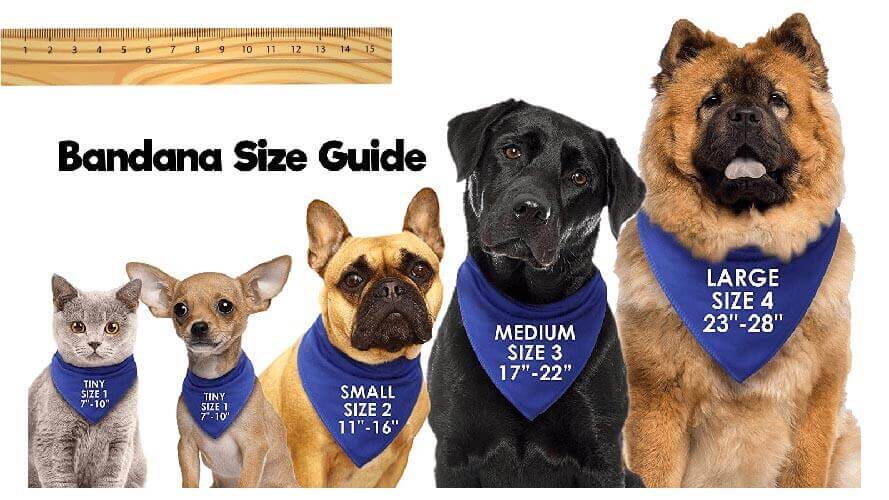 Dog Bandana Size Guide [2022]
This dog bandana size guide help you to quickly select the most perfect dog bandana size.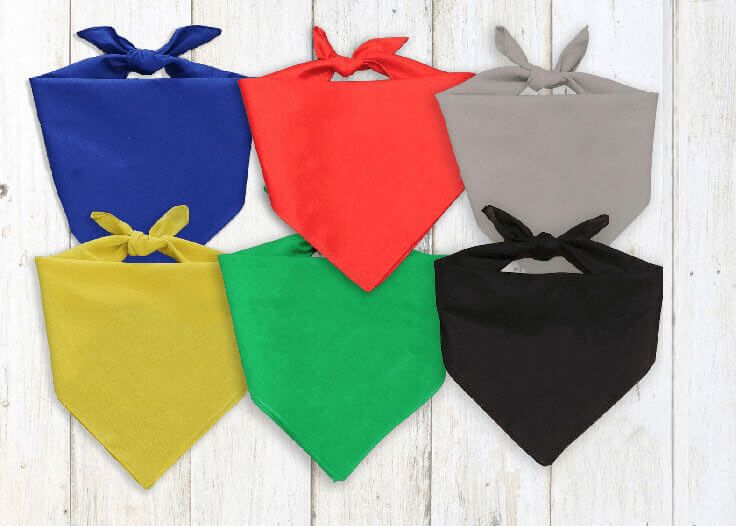 What Do Different Colored Dog Bandanas Exactly Mean?
Knowing the basic dog bandana color meaning is essential to identify probable issues.
Have any questions?
Do your custom dog bandanas have Minimum Order Quantity?
Our minimum order quantity is as low as 5 pieces, far below the industry standard of 60 pieces.
Do you charge for design or tax?
No. There's no extra cost and no hidden fees once you placed an order.
Can I get a sample before purchasing my custom dog bandanas in bulk?
Sure. Just feel free to contact us and let us know your personal needs. We are at your service at any time.
I want to purchase promotional dog bandanas in bulk, can I get a discount? How do I access wholesale pricing?
If you have any queries regarding bulk purchases, please feel free to contact us or directly send your request to [email protected], our group sales team who will be able to assist.
How soon can I receive my goods once I order my custom printed dog bandanas online?
The standard delivery is 15 days.
For rush orders there will be only 8 workdays of delivery time.
Can I ship to a different address than my billing address?
Sure. You will be prompted to enter your desired shipping address and billing address information in the Check Out process. You can make them different if you need to send to another place rather than the billing address. If not, just click the "Copy to Billing Address" button. It will save your typing time. :)
What shipping carrier do you use?
Our standard carrier is FedEx, free shipping. We also provide paid fast shipping services via DHL or UPS.
What are your dog custom bandanas made?
Our dog bandanas are made from Lycra. This kind of fabric is comfortable, breathable and has good elasticity. It is not easy to deform, and it can maintain the original shape after washing and stretching for many times.
What are your sizes? How can I choose for my doggies?
So far we offer 2 sizes for your reference:
Small: 52 x 21 cm (around 20.8 x 8.4″)
Large: 66 x 31 cm (around 26.4 x 12.4″)
Leaving enough room for a comfortable and secure dog bandana is highly suggested. Also sizing up for a great option for fluffy dogs.
Sizes can be customized if needed. Please feel free to contact us via [email protected], our sales team will be here for you. :)
Is your dog bandana stretchy?
Yes, the fabric is very elastic. Please rest assured that it is safe and comfortable for your pet to use.
Can I choose a thread color that is according to the fabric shown?
Of course! We will match the thread color to the color of bandana background. And you may always choose any thread color you like. However, some thread colors cannot match 100% with the fabric background. Our recommendations are based upon maximum legibility and visibility for the name.
Can I split the designs or sizes?
Yes, of course. You can get several patterns and sizes if you need, but we do not split packages when shipping.
Can I see a proof before my order goes into production?
Yes. We can provide you with a digital proof for your approval before mass production. You can directly send your patterns to [email protected], and let me know your preferred color and material. We will send the exact proof in JPG. Within 12 hours back to you. Please rest assured that we will not release your order into production until we get your approval.
Every Custom Dog Bandana is backed by our Outstanding Customer
Service and 100% Quality Guarantee