Get 10% OFF For Your Order Today! Use Coupon Code
SAVE10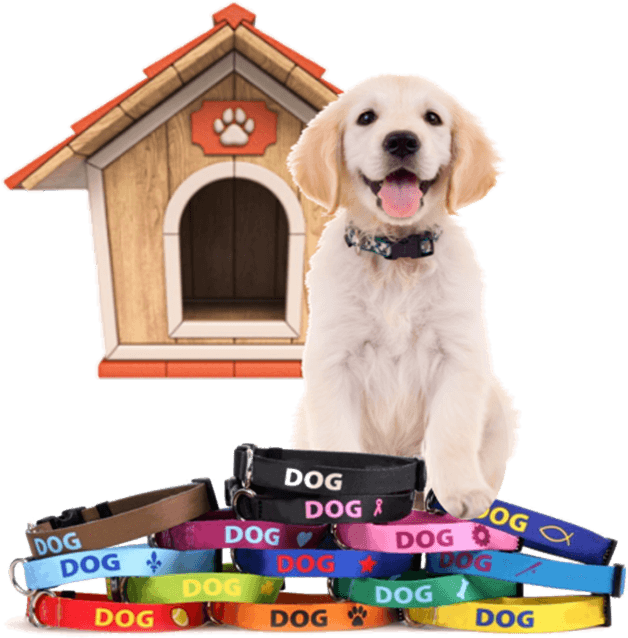 Custom
Dog Collars
Small Batch Manufacturing
Security & Style
Design Your Own Dog Collar Online
At Affordable Price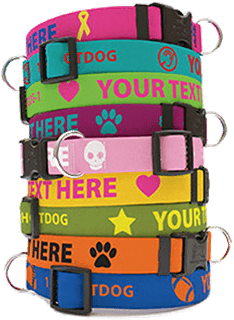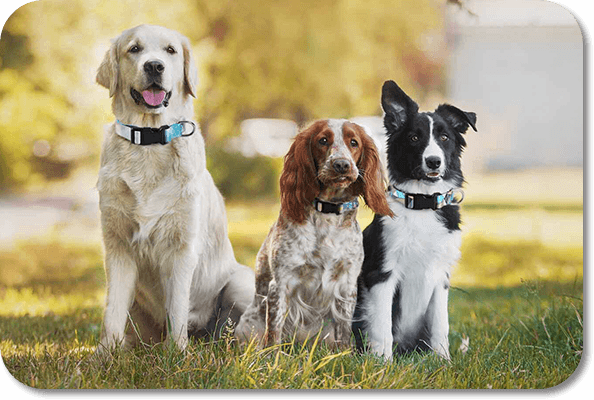 Top Rated Custom Dog Collars for You!
Our wholesale custom dog collars are made of premium polyester fabric and plastic buckle. The collars for dogs from 4inBandana® are not only adjustable, comfortable, and durable, but they can also be printed with names and any logos or patterns you like. Your satisfaction is our primary goal as always:
Lowest Price Guarantee: As low as $3.47.
All-over Printing: Customized as you wish.
4 sizes for choice: Meet the needs of different dogs.
Durable accessories: Keep safety for dogs.
What We Have Done for Our Customers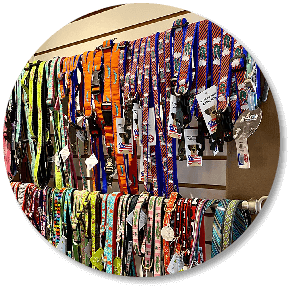 Pet Shop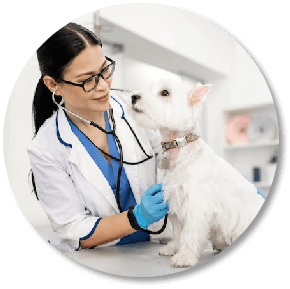 Pet Hospital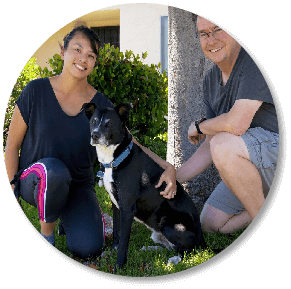 Lovely Family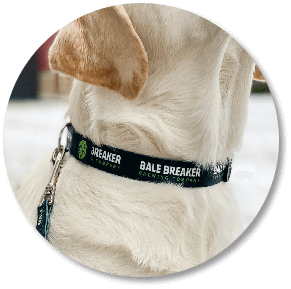 Pet-friendly Company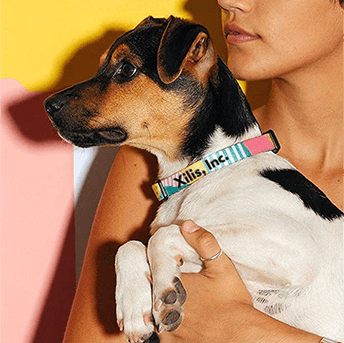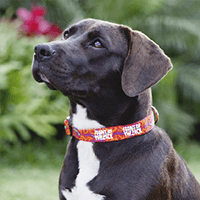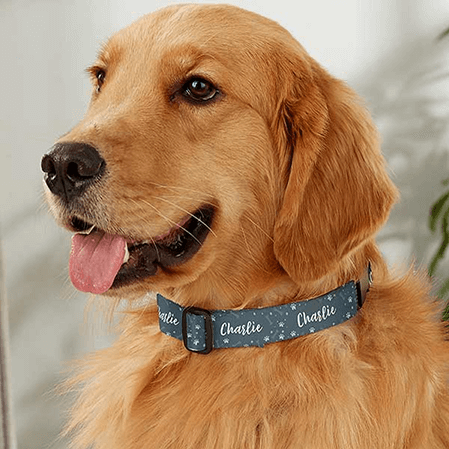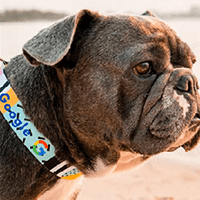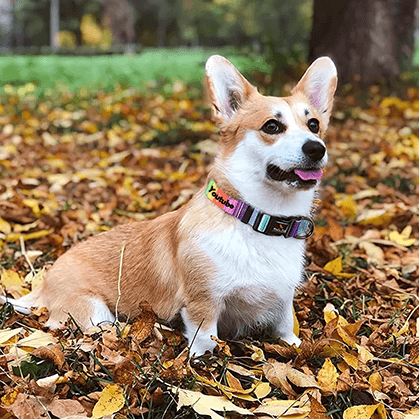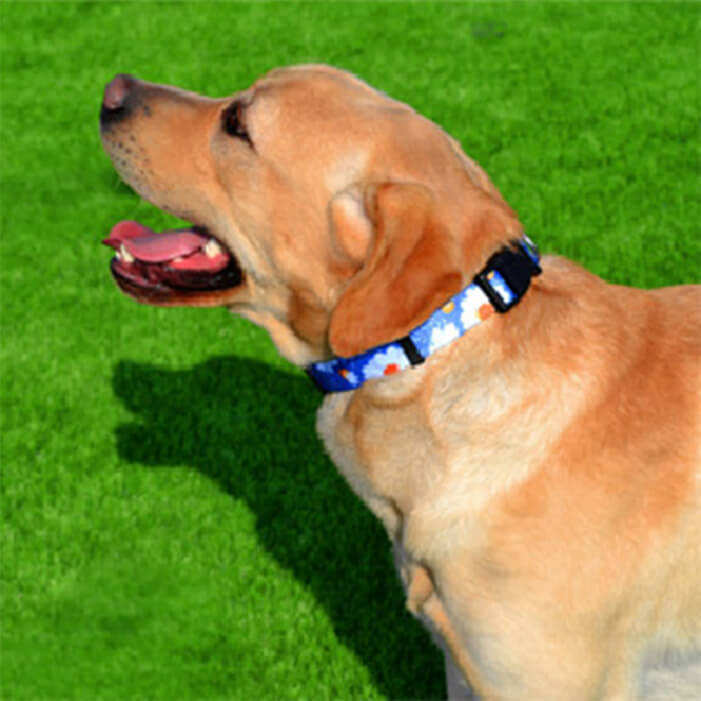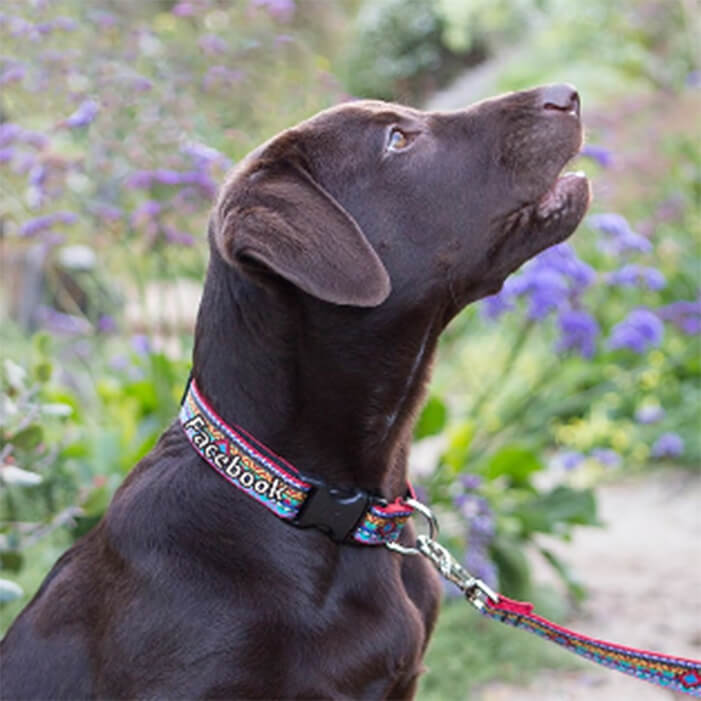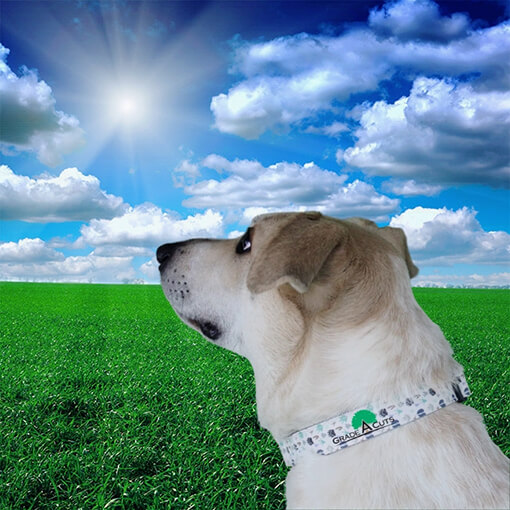 How to Choose the Right Size Dog Collars?
Don't know what size your dog's neck is? Not sure how to choose the right size collar for your furry
friends? Here are some tips for you.
Want to know more about dog collar sizes? Click here

Why Invest in Your Own Line of Customizable Dog Collars?
Keeping your dog safe is no longer the sole purpose of wearing collars for dogs. In modern times, customizable dog collars and leashes in bulk are a great way to promote. People can print any message on outdoor dog collars, and the dog will become walking propaganda. 4inBandana's high quality dog collars will meet your different needs.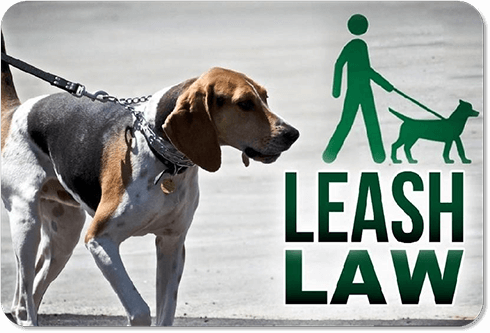 Compliance with US Leash Laws
There are different laws from place to place, but most states and localities require dog owners to keep their dogs on a leash in public. Only durable dog collars can let them take their dogs out with confidence. Despite this, in order to save costs, there are many very poor quality dog collars on the market which the buckle is easy to break.
With 4inBandana's custom dog collars breakaway, you can keep your dog safe. The best personalized dog collars come with firm fabric, sturdy buckles, and smooth edges. Such collars tend to be safer and stronger. Our wholesale dog collars are cheaper than others, but all materials we use are top rated. Just rest assured to take your dog walks with you with 4inBandana's custom buckle dog collars.
A Hit Among Pet Parents
Custom pet collars will make dogs look more stylish and trendy than regular collars. For pet owners who want their furry friends to get some exclusive designs to show off their personality, 4inBandana's sublimated dog collars will be the perfect solution. It can help dog owners put puppies' names or any designs they want on the collars.
For pet product retailers, our custom printed dog collars are often used in various festivals and events. During the holidays like Christmas and Halloween, they will customize holiday dog collars in bulk for sale. Because they know that dog owners are willing to share every important holiday or moment with their dogs. At this time, a funny dog collar with a unique design must be indispensable.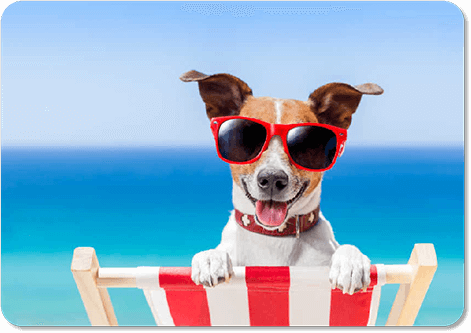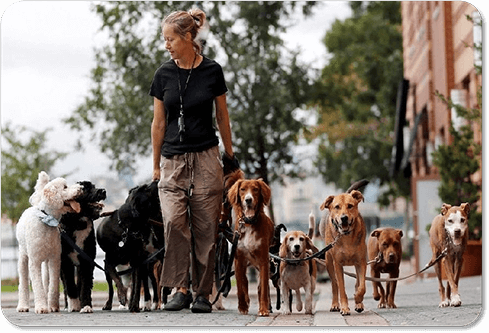 A Thoughtful and Original Corporate Gift
Most people love gifts, but they don't expect to receive the same item over and over again. You can make your corporate gift collection more innovative by adding some custom pet products, such as dog collars, bandanas, patches, tennis, etc. Your recipients will be sure to thank you for taking into account the needs of their furry babies!
If you decide to do it, the most important consideration is choosing the right size when customizing collars for dogs. When the collar for your dog is too big, it may fall off. If it's too small, it can become painful. There are 3 different sizes of buckle dog collars on 4inBandana®, which fit all sizes of dogs. The large custom dog collars suit for big size dogs, like boxers and labrador retrievers. Meanwhile, the small dog collars suit many cute small dogs like Shih Tzu, toy poodles, pitbulls, and so on. Certainly, there will be some extra large sizes for super large dogs.
A Great Introduction to Your Brand
If you feel like you've exhausted all other ways to promote your brand and want to attract some new people. Trying to launch a collection of custom dog leashes and collars which is a unique way to showcase your brand. Meanwhile, you will get a great chance to communicate your brand values, like your love for animals and support for a pet-inclusive lifestyle.
In addition, retail customers aren't the only ones who will be excited about dog collars personalized. If you have a large number of dog parents in your company, and you want to take extra steps to make your workplace more pet-friendly, you can order a batch of wear for your employees' dogs. When everyone is in the office, it's a great way to boost morale and foster a sense of community between pets and their owners.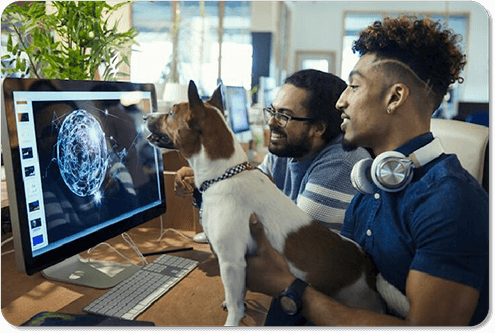 Best Dog Collars on 4inbandana.com
4inBandana® is your online home for custom dog collars wholesale. As a professional dog collar manufacturer who has been supplying many large wholesalers or retailers for many years, we always insist on cheap custom dog collars but high-quality for your furry friends.
From pet veterinarians, groomers, and animal hospitals to pet-friendly hotels and animal shelters, our pet-loving staff has helped many clients over many years. We're glad to help you find the perfect custom made dog collars for your organization's promotions. Make your own dog collar online or Contact us.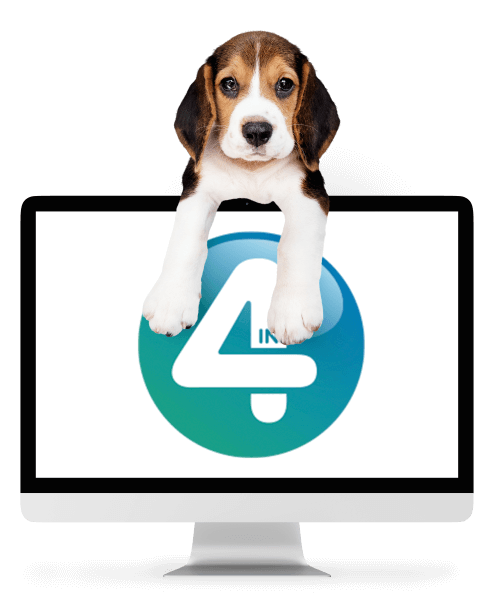 4 Steps to Get Your Custom Printed Dog Collars on 4inbandana.com
STEP 1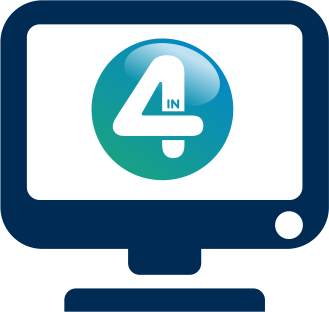 Choose Order Details
Select the qty, color & delivery date, and upload your artwork.
STEP 2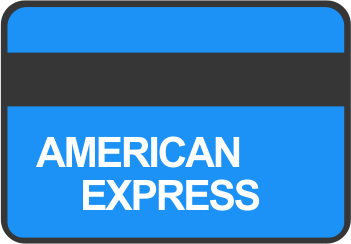 Checkout
Both of Credit Card and PayPal are acceptable.
STEP 3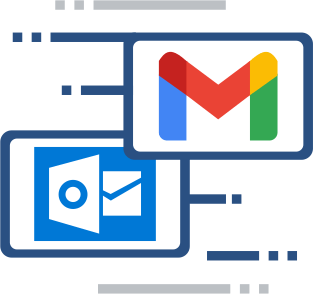 Artwork Confirmation
Your exclusive design draft will be finished and sent within 12h via email.
STEP 4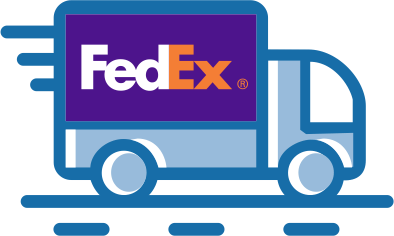 Your Order Delivered
Your custom logo dog collars will be delivered in time via FedEx IP Service.
You only need to Upload the Artwork you want, we will handle the rest and offer you The Best Custom Dog Collars!
Take Words from Our Customer
I requested some custom pieces to gift this past holiday season and I was blown away by the professionalism, creativity, and kindness shown throughout the entire process. The custom design dog collars were perfect ( I changed the details a few times and she was more than kind and accommodating), and shipping was prompt. My clients and their puppies like these cute dog collars very much. I can't wait to order more collars!

Nathan H.
Owner & Pet Lover
Canine Complex of Cape Cod
I bought this collar for my clients and I was amazed at the quality and craftsmanship. They are well-made substantial collars. I opted for the plastic clasp which I am very happy with and the D Ring for leash attachment is very strong and sturdy. The printed logo is vivid and beautifully done, and the desert flag logo that I chose to go with the camo fabric matches perfectly. It was shipped quickly and I received it in a week which is amazing for a customized item. Definitely will buy from this seller again.
Elizabeth B.
Owner & Pet Lover
Riley's Doggie Daycare
Brands that trust us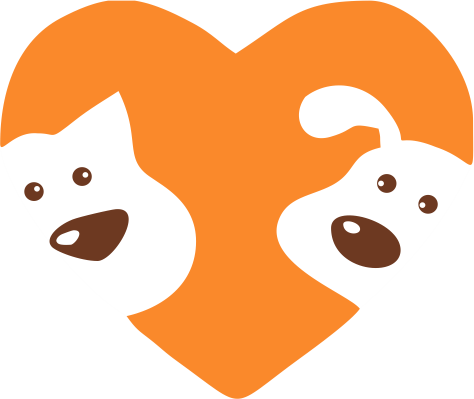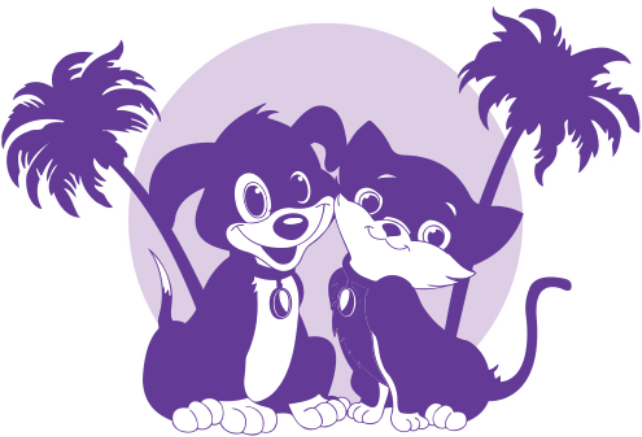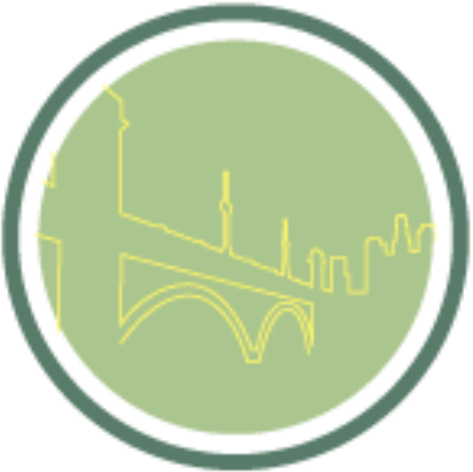 Everything You Need to Know About Dog Collars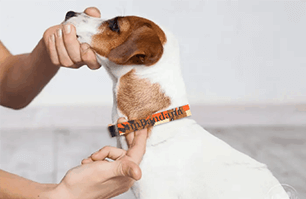 How to Fit a Dog Collar Properly? [2022]
There is a simple rule regarding fitting your best dog collars properly.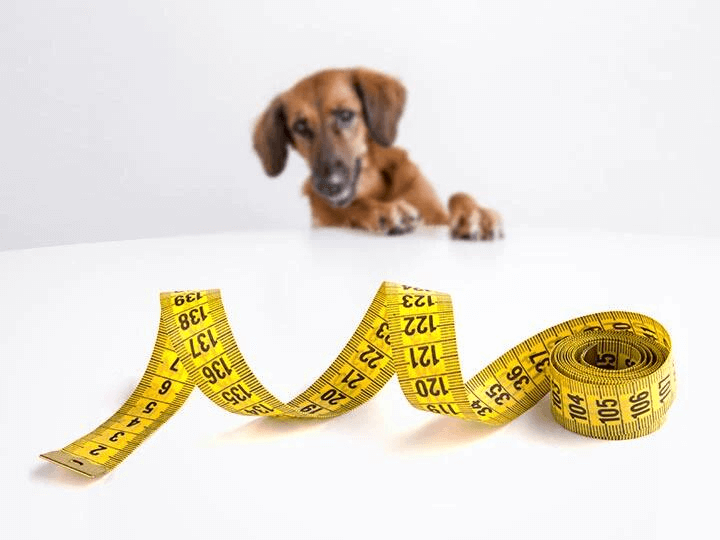 Dog Collar Size Guide [2022]
The right dog collar size will make your dog more comfortable and safe.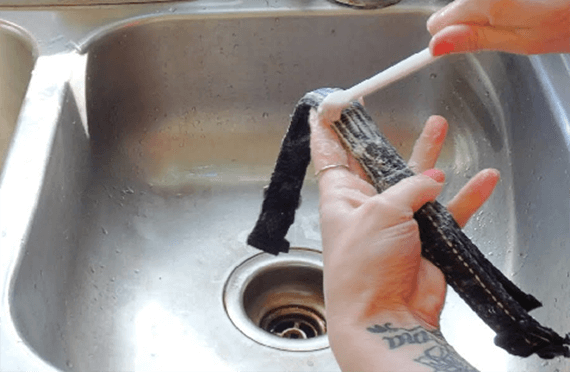 How to Wash a Dog Collar?[2022]
Knowing the correct ways to wash dog collars for removing the smell of smelly dog collars.
Have any questions?
Has your dog collar been tested and durable?
Please rest assured, we are using a super strong polyester material and durable hardware, we have thoroughly tested two dogs weighing 15 and 42 lbs in the lab and both have shown a spike in confidence and are comfortable with these custom dog collars. Nearby dogs are jealous of their styles of dog collars.
What Size Collar Does My Dog fit?
So far we offer 3 sizes for your reference:
Small: 11'' x 16'' (around 20-30lbs)
Medium: 14'' x 20'' (around 30-50lbs)
Large: 18'' x 26'' (around 50-90lbs)
Measure your dog's neck first, then measure the weight range. Your pet's neck size must be within the adjustable length of the collar. For example, if your dog's neck measures 14", please order an 11"-16" adjustable collar.
I ordered a dog collar, can I customize the same design of the dog leash?
Sure! Just contact us via email or make some comments when you order dog collar. We will do anything we can to help you make our dog collars and leashes for your dogs. If you forgot to make comments, don't worry! Please send me your needs directly via email and I will be here for you.
What collar is secure for your dogs to wear?
4inBandana custom printed polyester dog collars with a plastic buckle can adjust the size by yourself and are a surefire way to keep securely around your puppy's neck. Stylish and Durable D-Ring connects easily to leashes. It's easier to insert and remove. Safer than wearing a traditional ID tag and avoiding getting stuck when they go out for adventures.
Can these dog collars be washed?
4inBandana custom printed polyester dog collars with a plastic buckle can adjust the size by yourself and are a surefire way to keep securely around your puppy's neck. Stylish and Durable D-Ring connects easily to leashes. It's easier to insert and remove. Safer than wearing a traditional ID tag and avoiding getting stuck when they go out for adventures.
Can I split the designs or sizes?
Yes, of course. You can get several patterns and sizes if you need, but we do not split packages when shipping.
What is the printing method of these custom dog collars?
These custom dog collars are made by heat transfer, they can supports printing any color. So, you can send us any color of designs or logos to match the amazing products you need :)
Can I see a proof before my order goes into production?
Yes. We can provide you with a digital proof for your approval before mass production. You can directly send your patterns to [email protected], and let me know your preferred color and material. We will send the exact proof in JPG. Within 12 hours back to you. Please rest assured that we will not release your order into production until we get your approval.
How much does shipping cost?
Please rest assured that all products on our website include free shipping, so don't worry about shipping cost.
Do you charge for design or tax?
No. There's no extra cost and no hidden fees once you placed an order.
Which payment methods we can choose?
Regarding the payment, the payment methods we currently support are Credit Card, PayPal, and bank transfers. you can order directly on the website, or choose the one you prefer to pay for and let us know via email.
Can I get a sample before purchasing my custom dog collars in bulk?
Of course. Just feel free to contact us and let us know your personal needs. We are at your service at any time.
How soon can I receive my goods once I order my custom printed dog collar online?
The standard delivery is 16 days.
If your order is urgent, for rush orders there will be only 12 workdays of delivery time..
Can I ship to a different address than my billing address?
Sure. You will be prompted to enter your desired shipping address and billing address information in the Check Out process. You can make them different if you need to send to another place rather than the billing address. If not, just click the "Copy to Billing Address" button. It will save your typing time. :)
What shipping carrier do you use?
Our standard carrier is FedEx, free shipping. We also provide paid fast shipping services via DHL or UPS.